Celebration season is here. If you are looking for the perfect outfit to party in, look no further than this gorgeous new pattern.
Introducing Adelaide
Fancy or casual, Summer, Autumn, Winter or Spring, Adelaide has an option for every occasion!
Adelaide has something to suit every style and taste.
Available in girls sizing 2-9/10, tween sizing 10-16 & women's 0-20!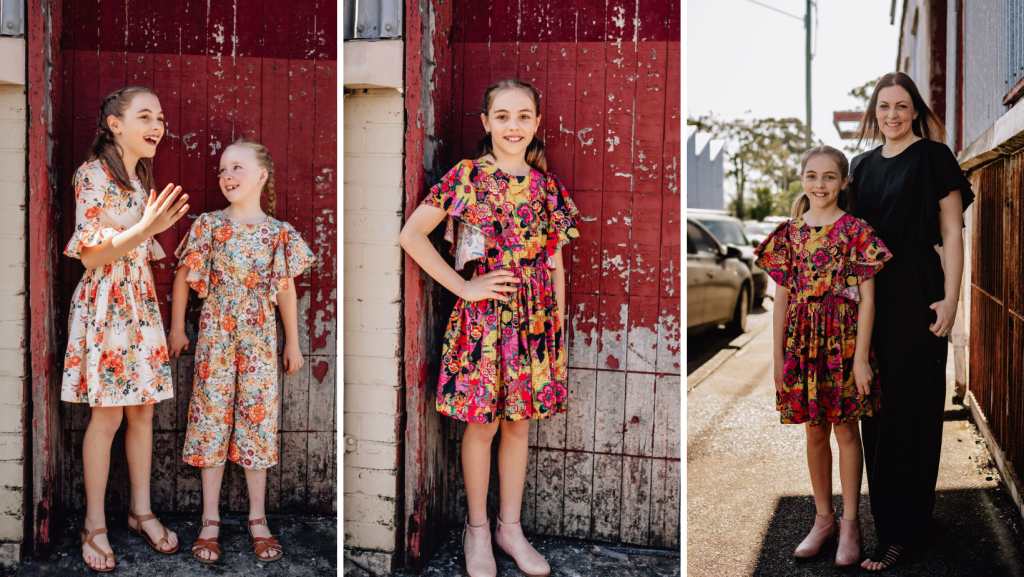 The Adelaide bodice is a moderate fitting bodice. Choose from of a large keyhole open back with tie closure to make a statement, or a modest and comfortable full closed back. The girls & tweens sizing features a wide elastic casing and the women's pattern features a faux ruched extra wide waistband and flattering front shoulder bust darts.
Adelaide has two sleeve options. The fabulous angel sleeves are bold and fashionable. Delicately finished with a rolled hem, they add a romantic edge to Adelaide. The 3/4 sleeve is finished with a ruffled flounce cuff adding that little extra to a simple sleeve.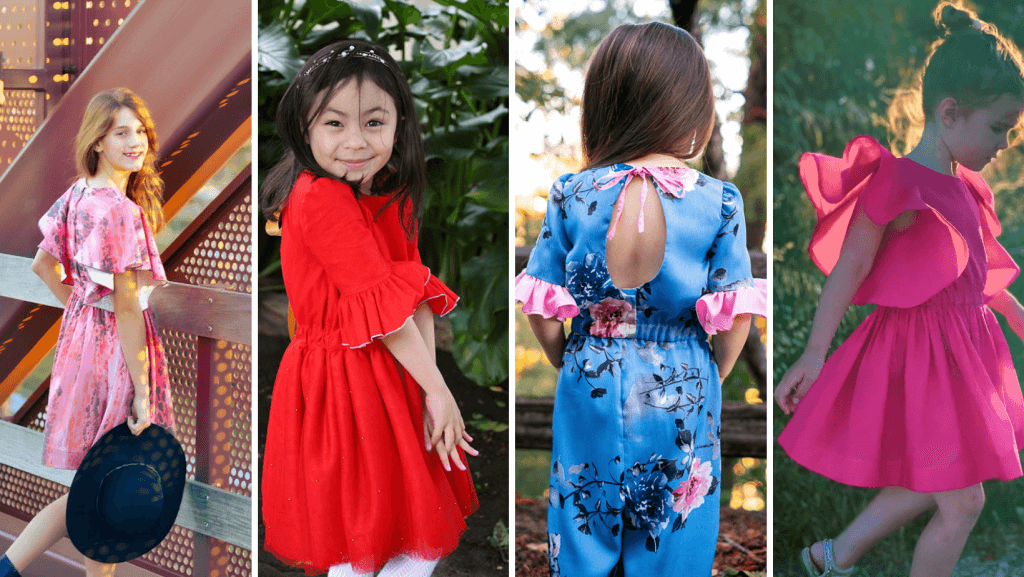 Once you have chosen your bodice and sleeve combination, it is time to choose the bottom of your Adelaide creation.
The jumpsuit is chic and fun! The wide leg pants are ultra comfortable and flattering. Add large pockets for function or feature!
With a nod to iconic 1970's style, the jumpsuit can be dressed up or down.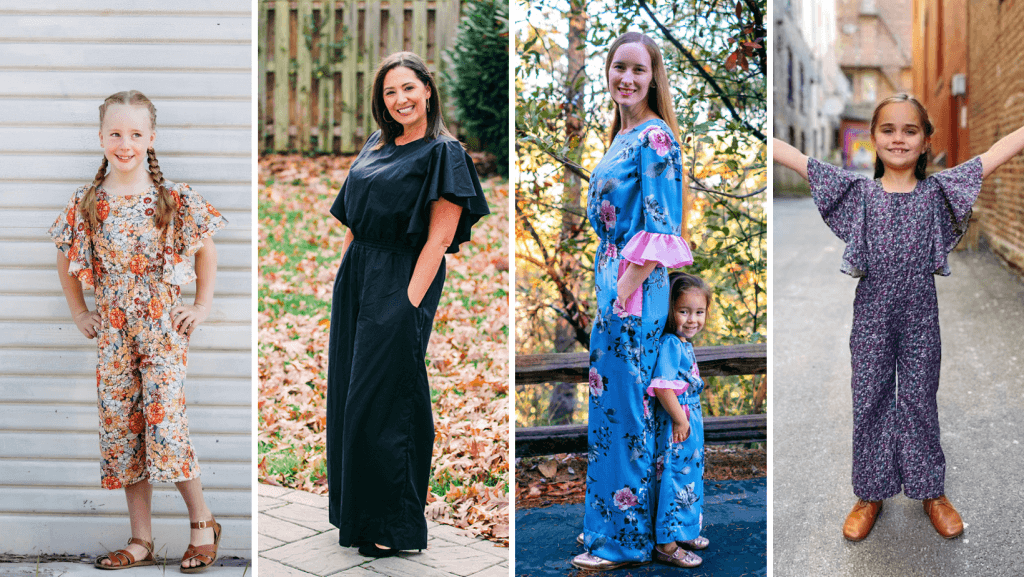 If you prefer a dress, Adelaide also features a knee length skirt option.
Last, but certainly not least, there is always room in the wardrobe for a gorgeous peplum top to pair with jeans, pants, shorts or a skirt for a fun day out!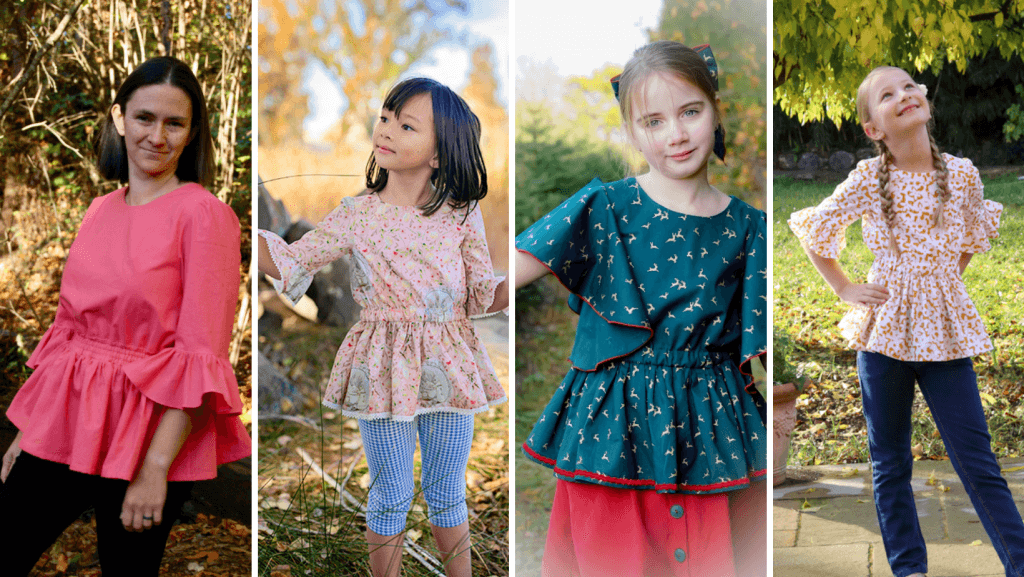 Adelaide features:
Fully lined bodice
Back closure
Flattering Shoulder bust darts on women's bodice.
Open back bodice with tie closure
Modest full closed bodice
Slim to moderate fit
Full circle angel sleeve
3/4 sleeve with ruffled flounce cuff
Wide elastic band for girls & tweens
Wide elastic faux-ruched waistband for women
Wide leg Jumpsuit pants in cropped length or full length
Knee length skirt
Hip length peplum top
You can find the Adelaide Pattern here for Girls, Tweens & Women's.
A Bundle of all sizes is also available.
We love to be part of your sewing journey. Get inspiration, ask questions and share all your Vintage Little Lady creations in our Facebook Group.
Check out the full pattern collection at Vintage Little Lady.
A huge thank you as always goes to out amazing tester team – Amanda, Angelique, Anh, Ashley B, Ashley C, Axa, Cori, Fiona, Hannah, Janice, Jie, Kathleen, Katy, Laura, Lauren, Malene, Mandy, Mary, Misty, Nele, Raeann, Rebecca, Sarah, Stephanie, Tamara, Tanja, Tora, Virginie and the ever fabulous VLL owner and lead designer, Leah.
Happy Sewing
With Love
Beck x