August Sew Ups
It is that time again!! Time to recognize 2 TALENTED seamstresses of VLL!!While we always have so many talented ladies submit and it is always SO HARD to choose, we have randomly chose 2 WONDERFULLY, creative ladies for the month of August!  I am excited to introduce the two talented sewists that were chosen, Georgi Mckinney & Courtney Kinney .
Their sews were so very creative and well thought out down to the buttons, bows, and fabrics! Georgi's sew features our sweet sewing pattern "Layton" while Cortney's sew features our vintage sewing pattern "Baby Danica" ! Both of these ladies have such STUNNING taste! They both have shared lovely photos and a SWEET back story of how they got started in the journey of sewing and their thoughts & details on each one of their sews! Sit back, relax, and enjoy the journey of these two ladies below!
Georgi Mckinney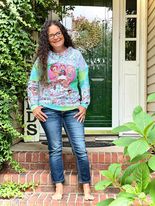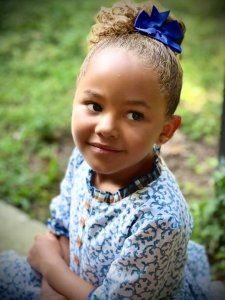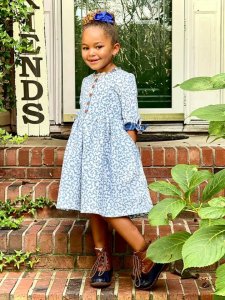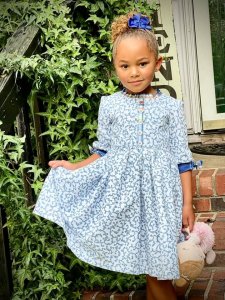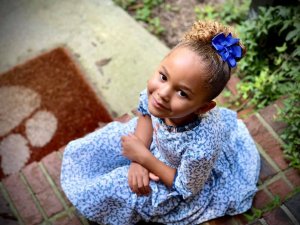 A Word from Georgi
Thank you for the opportunity to share a moment with Vintage Little Lady.  It's a pleasure and honor to sit in front of a sewing machine and bring life to bits of fabric and share the magic with friends who share the same passion.
Even though I have familiarized myself with VLL through Instagram, Facebook and the VLL website, before this last week I had yet to purchase a pattern because I am still not quite as confident in my amateur sewing skills as I would like to be.  As a youngster, I remember my mother teaching me basic sewing techniques on a singer with a cast iron treadle.  I can still feel the motion of the treadle beneath my little girl foot.  Unfortunately, I did not take those skills with me into adulthood and more or less pretended to sew a button occasionally.  I pulled out my dusty project runway sewing machine at the beginning of Covid after losing my job and like many others I began to make masks to make a few extra dollars.  Little did I know I would be sewing an upwards of 75 masks per day at the height of the pandemic which afforded me an upgrade and a desire to know all things sewing related.  I began taking classes at "YouTube University" and began making bags, purses and wallets.  YTU taught me everything I thought I knew and then some.  Fast forward to these good ole days and I've recently thrown myself into learning how to make all types of clothing for my family.  I love to upcycle which is why I ended up purchasing
Layton
.  After finding this fabulous sheet and sham from the local Miracle Hill I went on the hunt for the perfect pattern.  Layton fit the mental description I wanted so I off the cuff purchased the pattern and crossed my fingers.  There were a couple of new techniques which gave me pause but once I had the sleeves made I knew I had made the perfect choice.  Those bows on the cuffs are to die for.  What little girl isn't going to want to wear such a classic, elegant dress?
Again, Thank you for allowing me to be part of the Vintage Little Lady journey.  I am looking forward to sewing up some more VLL patterns in the near future.
Sincerely,
Georgi Mckinney
*****************************************************************************
Courtney Kinney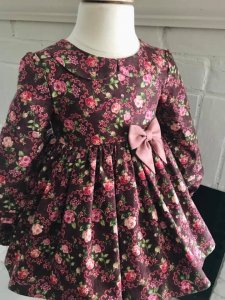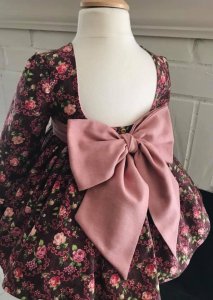 A Word from Courtney
Hello all!
I'm Courtney Kinney and I've been on my sewing journey for about three years. I ventured into sewing when I backed away from bow making and I've never looked back! My new boutique will be opening soon, so I hope that I get the pleasure of sewing for you. I stumbled upon Vintage Little Lady a few years ago and have been in awe of the well thought-out patterns that is released month after month. I fell in love with Danica baby the moment it was posted! I added a few modifications to this piece that represents who I am but keeping the original vintage vibe! I look forward to many more jaw dropping designs from VLL! Keep spreading love, joy and peace!!
*****************************************************************************
A huge THANK YOU to Georgi and Courtney for entering the August Sew ups contest, and for sharing their GORGEOUS sews with us! I have been so THRILLED to see all of the BEAUTIFUL sews that have been displayed in our Vintage Little Lady Pattern Group on Facebook! There is so much inspiration and encouragement, for everyone from beginning sewists up to experienced sewists! Keep the GORGEOUSNESS coming!! You are ALL  so very talented in all that you do! We are looking forward to the September Sew Ups!
With Love,
Milja Brown