August Sew Ups!
It is that time again!! Time to recognize 2 TALENTED seamstresses of VLL!! While we always have so many talented ladies submit and it is always SO HARD to choose, we have randomly chose 2 WONDERFULLY, creative, talented ladies for the month of August! CONGRATULATIONS to Holly Lange & Grissel Castillo!!! Holly & Grissel's sews were so very creative and well thought out down to the buttons, lace trims, and fabrics! Holly's sew features our sewing pattern "Bristol" while Grissel's sew features our sweet, vintage sewing pattern "Falleyn"! Both of these ladies have such STUNNING taste! Holly & Grissel both have shared lovely photos and a SWEET back story of how they got started in the journey of sewing and their thoughts & details on each one of their sews! Sit back, relax, and enjoy the journey of these two ladies below!
Holly Lange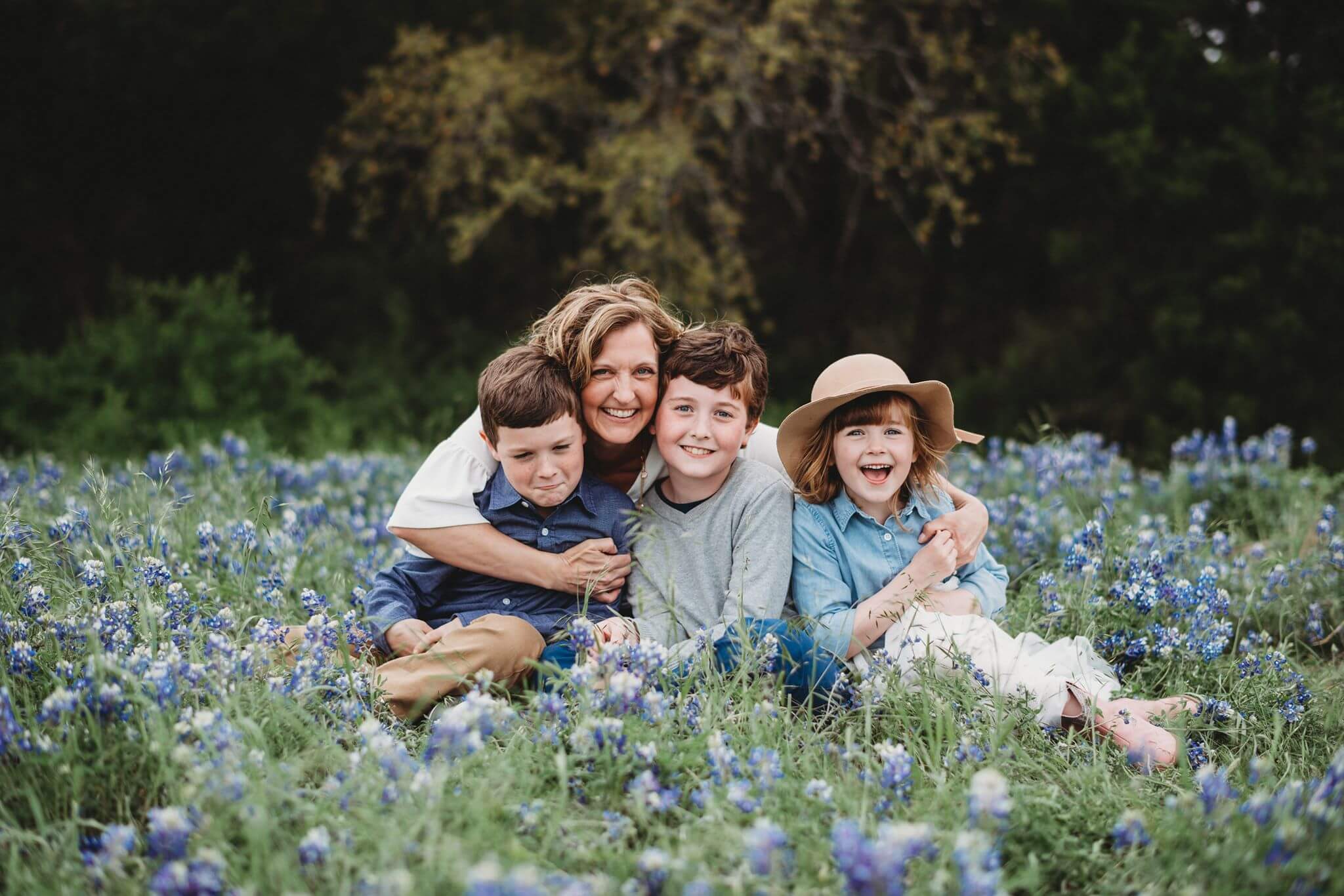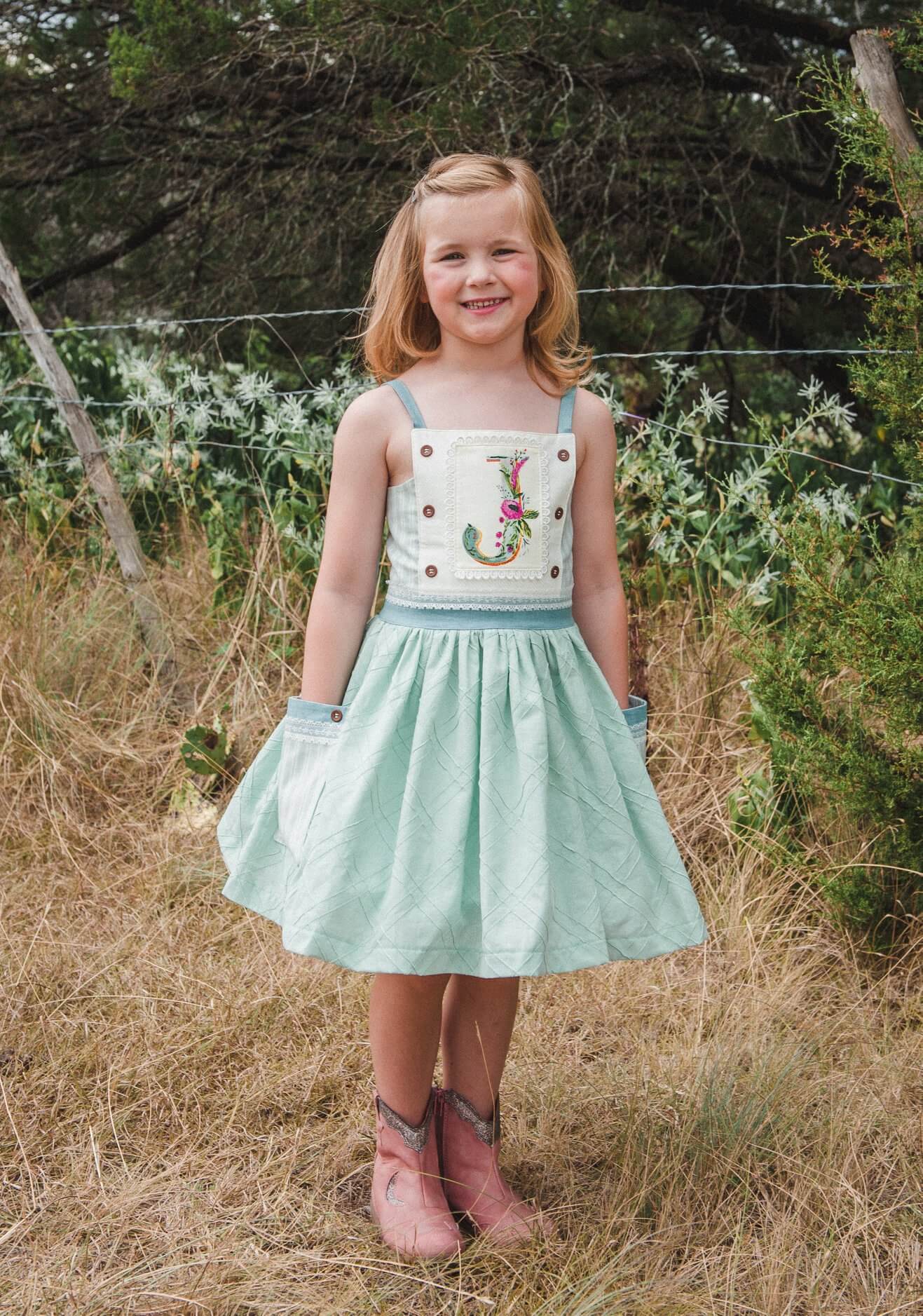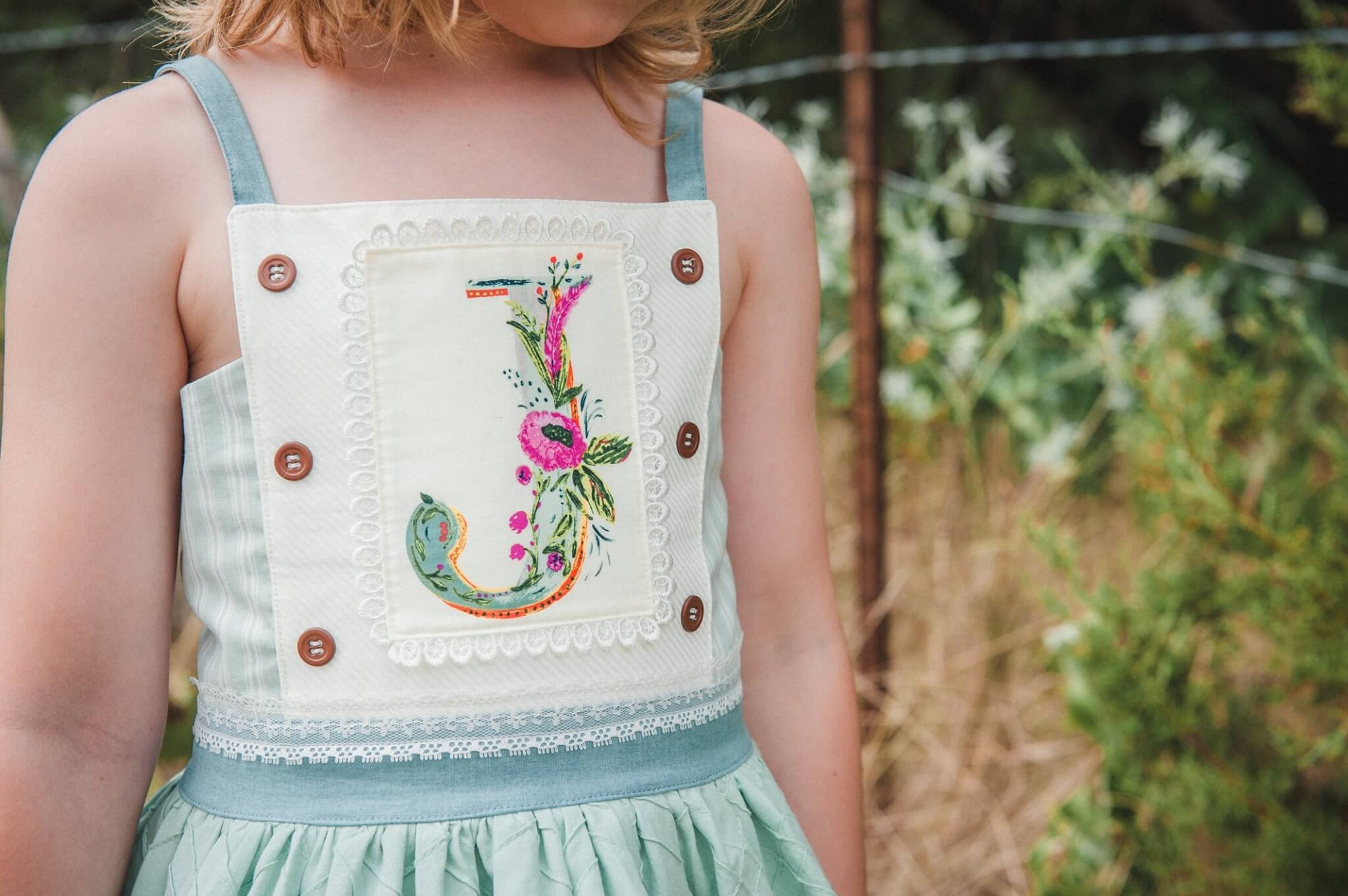 A Word From Holly!
"Hello! I am extremely excited to be part of such a fabulous community of sewists, and to be chosen for the August sew-up is amazing! While growing up, my mother was always sewing. She made bridesmaid and flower girl dresses for many family members, her own wedding dress, and several of my homecoming and prom dresses. But, I didn't officially pick up the sewing machine until I was pregnant with my own daughter. It was then that the idea of creating fabulous pieces for my daughter really caught my interest. That was roughly 6 1/2 years ago and I continually try to grow in my abilities. I absolutely love all things fabric and beautiful patterns! I chose the Bristol pattern for my daughter's first day back to school dress. I had been hoarding the floral alphabet fabric from Bari J, and wanted to use the bib front on the Bristol to highlight it. I chose cream, sage green and a misty blue fabric because they paired well and are some of my favorite shades of timeless colors. I accented the bib with some small brown buttons and lace. I repeated this on the pockets. This was my first VLL sew and it came together beautifully. The instructions and photos were so easy to follow! The fit is wonderful and I love that the back is elastic and the shoulders tie so we can make this beautiful dress last a little longer! I can't wait to make my next VLL dress! Thanks so much for the great patterns Leah!!!"
Grissel Castillo!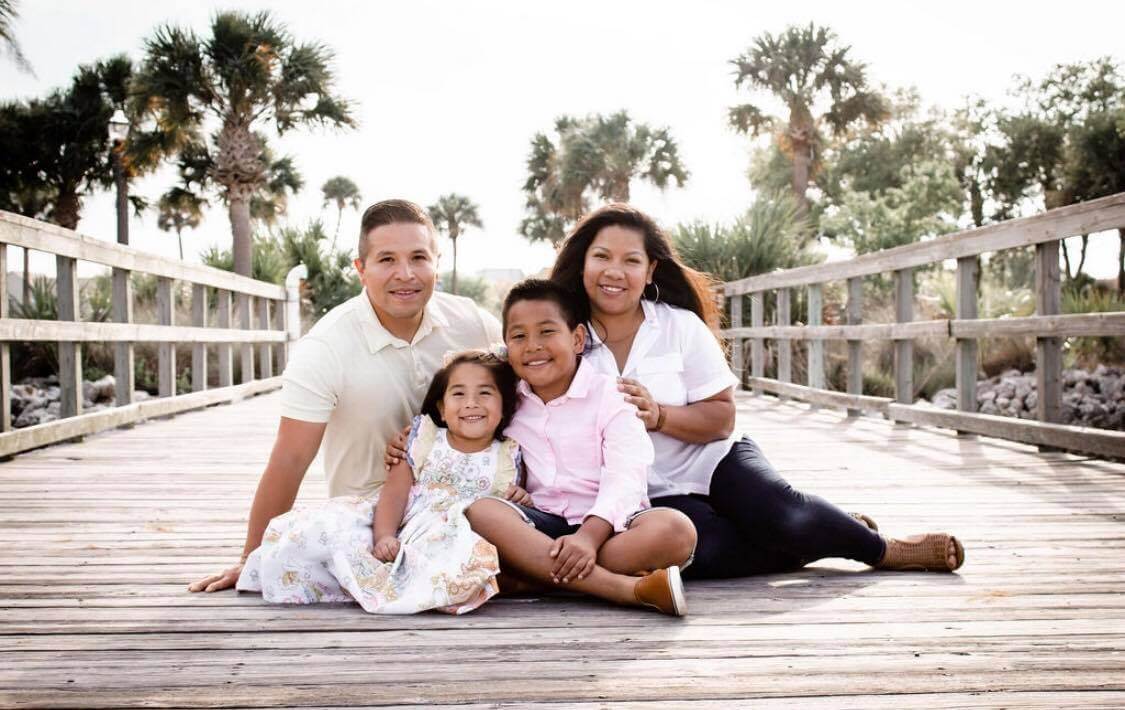 Grissel's VLL Sew "Falleyn" !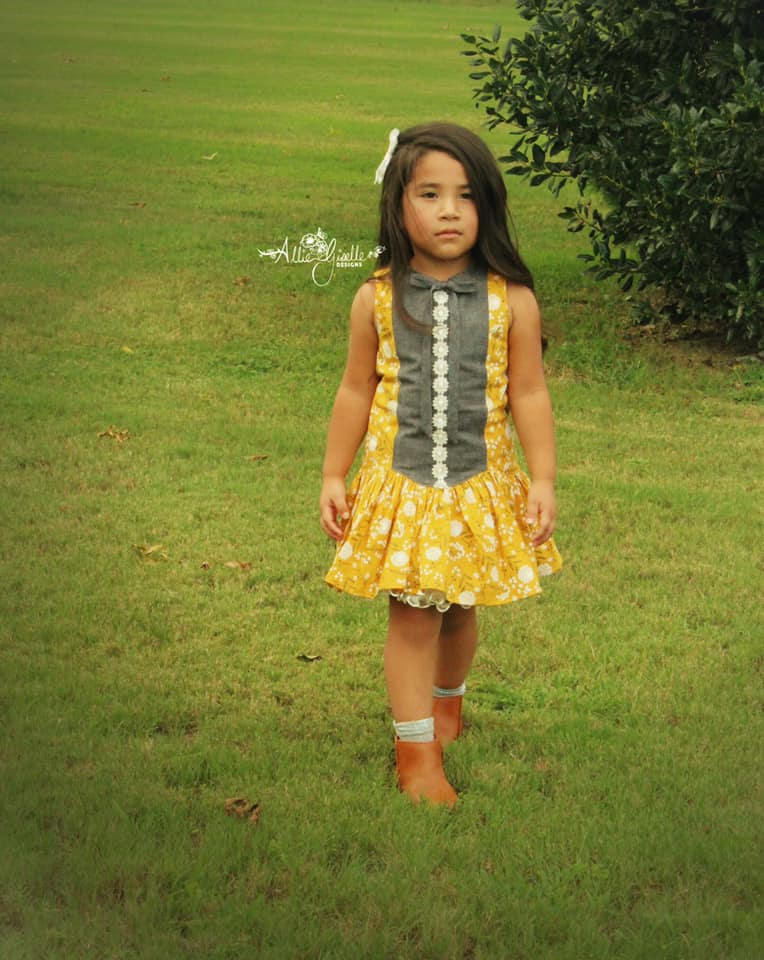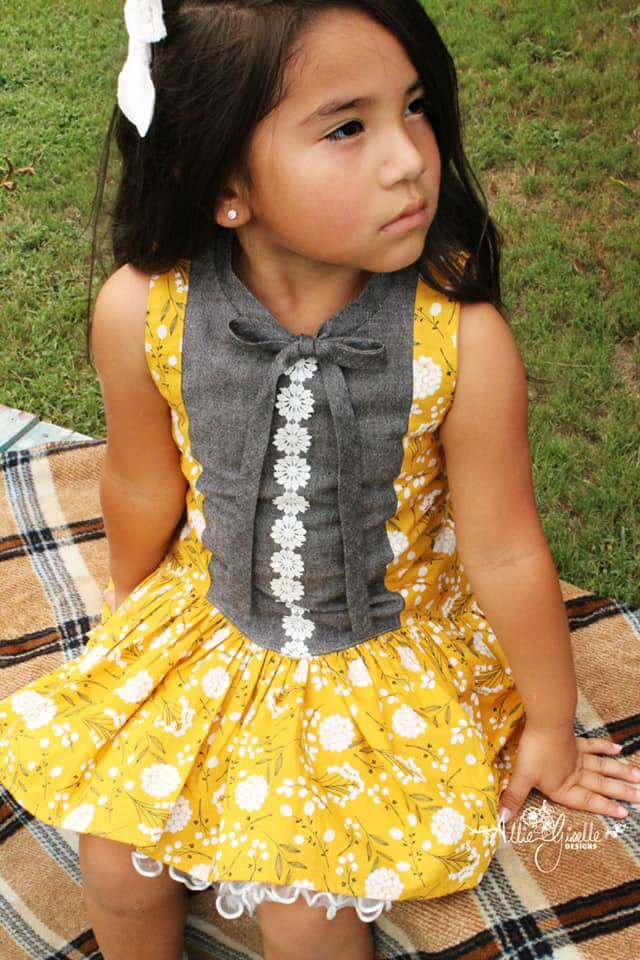 A Word From Grissel!
"Hola! I'm Grissel, hands and heart behind AllieGiselle Designs.
Besides sewing and dreaming about designs, fabric, and patterns…
I am a wife to my best friend and biggest fan, mama to Aaron (9) and Giselle (5) , and childcare provider.
I enjoy playing soccer, anything outdoors, travel, cuddles with my little family, and a nice warm cup of coffee with a friend.
I'm originally from Mexico, but grew up I'll say half of my life in NC, where I met and married my husband.
We're a proud military family and love all the great adventures, places and friends we meet along the way that come with this journey. We are currently calling sweet home the beautiful state of Alabama.
I come from a family of creative minds. But take sewing from my mom. She was always making dresses for my sisters and I. I never learned from her though(I don't know why lol), but now we enjoy talking about sewing all the time!
I always loved learning how things were made, anything hands on, and any forms of art possible since I was little. I danced folklore when I was little and love all those colorful and beautiful dresses since then.
My love for sewing didn't start until I had my son.
During my husband's first deployment, long sleepless nights, being far away from family, and on the border of depression. God brought me up to the light and sent me this blessing. One night, I grabbed my son and went to the store, got me a sewing machine, taught myself how to sew, and made him a pair of up-cycled underwear. I've taught myself how to hand embroider and crochet. I love learning! Since then, I couldn't stop creating and made dresses and things for family and friends. When my daughter was born my loved for sewing and creating sparked even more. She loves wearing mama made clothes, and expects a surprise every morning she sees me staying up at night. She loves when I show her all the love and kind comments everyone posts when I share in the group. The excitement and joy my clothes brought to my kids, inspired me to share this wonderful gift with other children. I started dreaming and creating my little shop throughout the years. And after a long time, and with the support of my family and great people I've met through this world of handmade, AllieGiselle Designs was finally a dream come true.
I love creating any style! From vintage to fun, and most of the times I go with what keeps me up at night haha! So expect many options along the way.

But my heart truly is in everything vintage and sweet. That explains one of the reasons why Vintage Little Lady has a special place in my heart.
When I saw Falleyn being release, I immediately knew what I wanted to make! And my fabric gave me a thumbs up! I know! Who thinks their fabric talks to them, right??!! And then, that little lace remnant was looking at me with puppy eyes longing to be used…Haha
I'm longing for cool evenings and sunsets and Falleyn was perfect to bring that to life!
I am so blessed for being here and sharing a "little" about myself. I'm praying that along this journey I can be an inspiration and a helping hand to other mamas out there. Just like the many ladies I've met here, like Leah, that have been a blessing and selfishly extended their helping hand beyond their busy lives. THANK YOU!
I am so excited and am looking forward to making and sharing more amazing VLL creations with everyone!"
A huge THANK YOU to Holly & Grissel for entering the August sew ups contest, and for sharing their GORGEOUS sews with us! I have been so THRILLED to see all of the BEAUTIFUL sews that have been displayed in our Vintage Little Lady Pattern Group on Facebook! There is so much inspiration and encouragement, for everyone from beginning sewists up to experienced sewists! Keep the GORGEOUSNESS coming!! You are ALL  so very talented in all that you do! We are looking forward to September Sew Ups!