Summer is my favorite season to sew for.  With just this one pattern, you can fill your little one's closet with so many possibilities!!!
Introducing Leilani
Have you seen the new Barbie movie trailer? It brought back wonderful memories when I was a little girl playing with my doll.  I designed this pattern with the '50s Barbie sun dress in mind, while giving it a contemporary feel.
What started with bows on the shoulder turned into bows GALORE!!!  Leilani is the super versatile, cute on-trend dress/top pattern that is perfect to sew up for any occasion! The casual everyday, to the perfect party dress, to the summer vacation outfits of your dream.

Bodice Options
Leilani features a square neckline with an elastic back panel, allowing for an easy, comfortable tailored fit for the ease of getting in and out for your little one.  Choose a plain bodice, add a foldover flap, and/or finish with an optional accent bow to make a statement!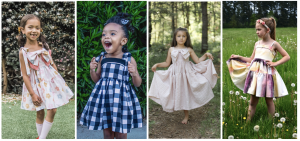 Strap Options
Leilani features the adjustable self-tie shoulder straps for that contemporary feel.  Choose from shoulder tie wide strap, or the narrow or spaghetti back tie straps.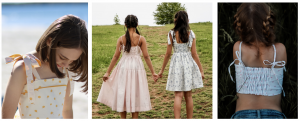 The elastic back bodice and adjustable strap features make it perfect for longer wear!
Top Options
Nothing screams summer like crop tops and they are a favorite piece of clothing, especially for the tweens in your life.  Pair your crop tops with high-waisted shorts or skirts.  A perfect skirt pattern to pair with is our Jelena, as shown by one of our testers.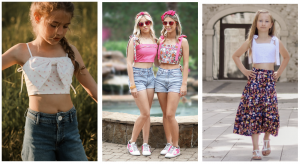 However, if crop top is not for you, no worries, we got you!  How about an adorable peplum top to make a simple summer outfit.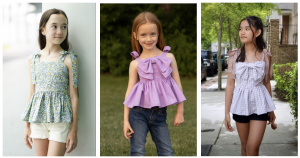 Dress Options
There are three dress options, simple or tiered mini skirt, and tiered midaxi skirt.  My favorite is the midaxi length.  It's easier to wear than the full-length maxi style, which can sometimes overwhelm your little ones.  This hemline is more versatile and seasonless, paired with a cardigan or denim jacket for the colder months or just sandals in the warm months.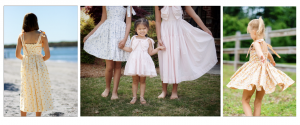 With so many possibilities, two top options, three dress options and three strap options, I know you are going to love mixing and matching to create your perfect summer pieces.  What will you sew up?
Leilani  Features:
🎀 Square neckline
🎀 Foldover flap detail neckline option
🎀 Statement Bow front bodice option
🎀 Adjustable Wide shoulder straps with bow
🎀 Narrow shoulder straps back tie
🎀 Spaghetti shoulder straps back tie
🎀 Elastic back closure
🎀 Knee Length (simple or tiered)
🎀 Midaxi Tiered Length
🎀 Peplum Top length
🎀 Crop Top length
Leilani patterns is available in girls and tweens here.  Bundles are also available.
Please share all your creations in our Facebook group and/or your social media with #VLLLeilani.  We can't wait to see your Leilani makes!!!
A big thank you to our WONDERFUL testers who worked so hard and have made some gorgeous masterpieces!!! –Marcie, Beth, Laura, Lauren, Angelique, Virginie, Lucy, Kara, Meigan, Jennifer, Jeni, Deah, Tomomi, Dani, Mandi, Bernie, Fiona, Jie, Julie, Erin, Denise, Stephanie, Becky, Angel, Ashley, Noel, Jennifer, Megan, Ghea, Tonia, Sahara, and Beck!
A special thank you to the beautiful, sweeet Leah, for the chance to bring another design to life. And, of course, her love and support through the whole process.
Hugs
Jessie