The halter neck first made its mark on fashion in the 1930s but it was at its peak of popularity in the 1960s and 1970s. Amy takes its inspiration from the halter neck dresses and jumpsuits that were a popular choice for summer in the 1960s.
With a feminine silhouette and romantic flounces, Amy is the perfect outfit to add some sweetness to your Summer sunshine!
Introducing Amy
Amy is a halter style dress or playsuit and it is a really fun sew!
There is NO gathering in this pattern! The shape and cut of the pieces mean the fabric does all the work to create those beautiful ruffles.
Amy features a fully lined fitted bodice with optional armscye flounces front & back for extra sweetness. The back of the bodice features a modest cutout and both the dress and playsuit close with a zipper and tie at the neck.
The skirt option on Amy is a full circle and there are instructions on finishing the hem with horsehair braid or bias tape.
The playsuit version features wide leg swing skorts which are flattering and comfy to wear!
Girls of all ages will find it hard not to twirl!
Designed for woven fabrics in Girls 2T to 9/10 and Tweens 10-16 sizing.
The Bodice
The Amy bodice is slim fit for a feminine silhouette. The bodice is fully lined and features a modest cutout in the back. Choose a simple finish or add optional armscye flounces for some extra sweetness.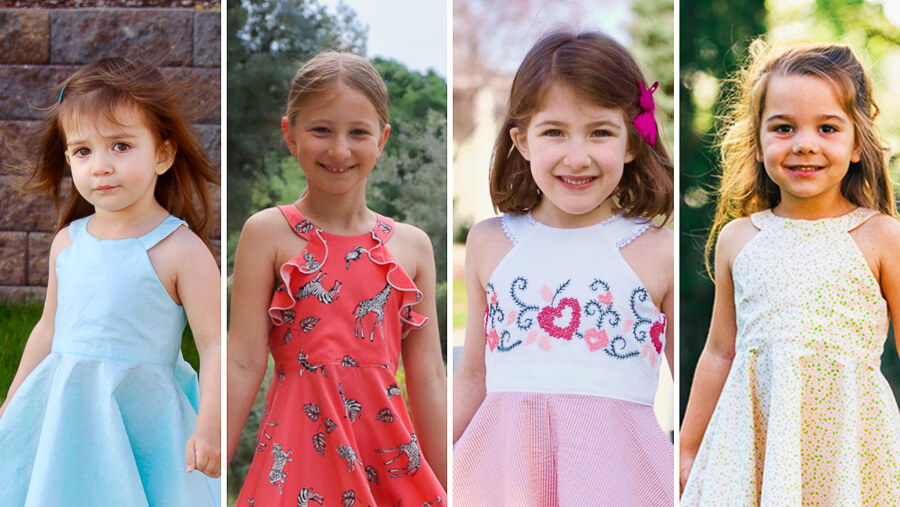 Zipper Closure
Amy has a zipper closure to create that seamless finish. The tutorial includes instructions for a simple install of a regular zipper. There is also an extensive tutorial video with all the tips and tricks for installing a perfect invisible zipper!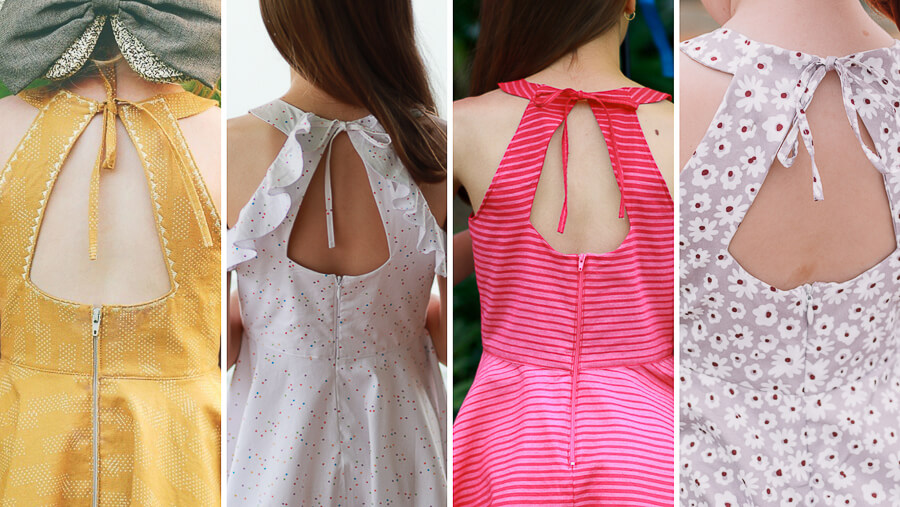 Armscye Flounces
Optional armscye flounces add a romantic and feminine finish to the Amy bodice.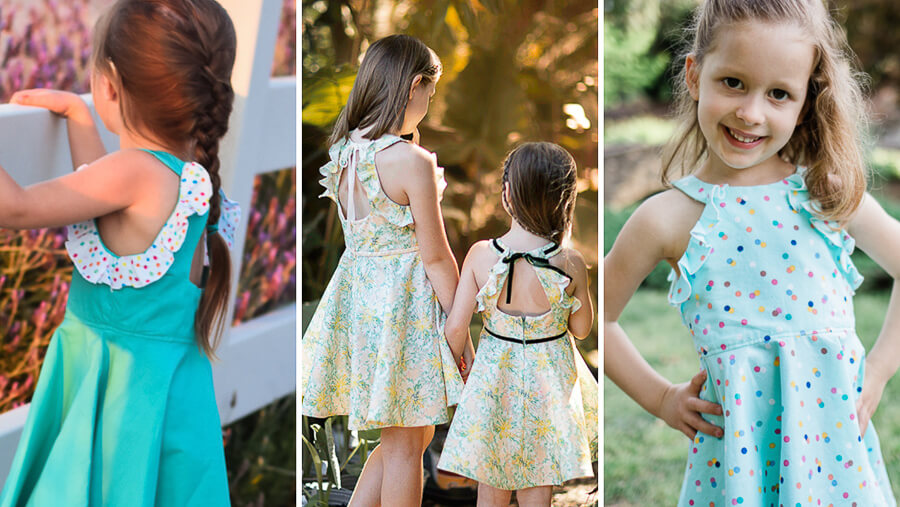 The Skirt
The Amy dress is designed for twirling with a full circle skirt. The tutorial includes instructions on hemming with bias tape or horsehair braid.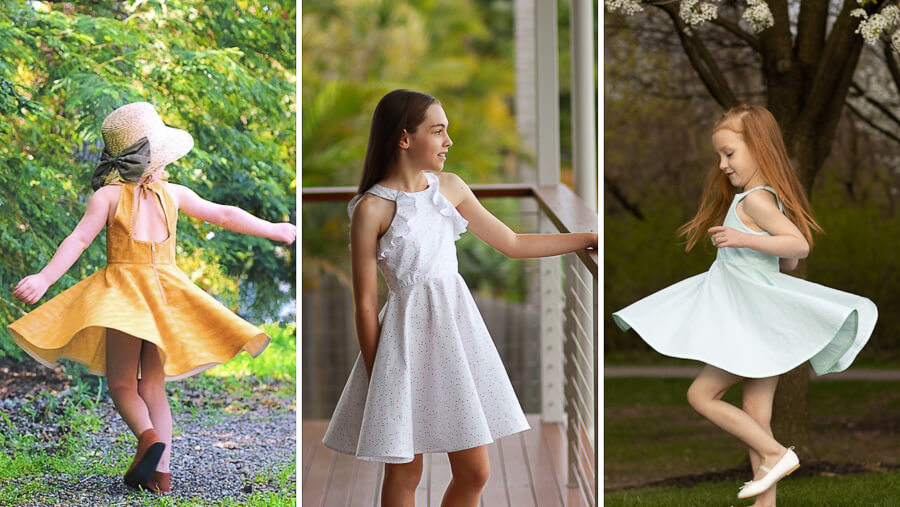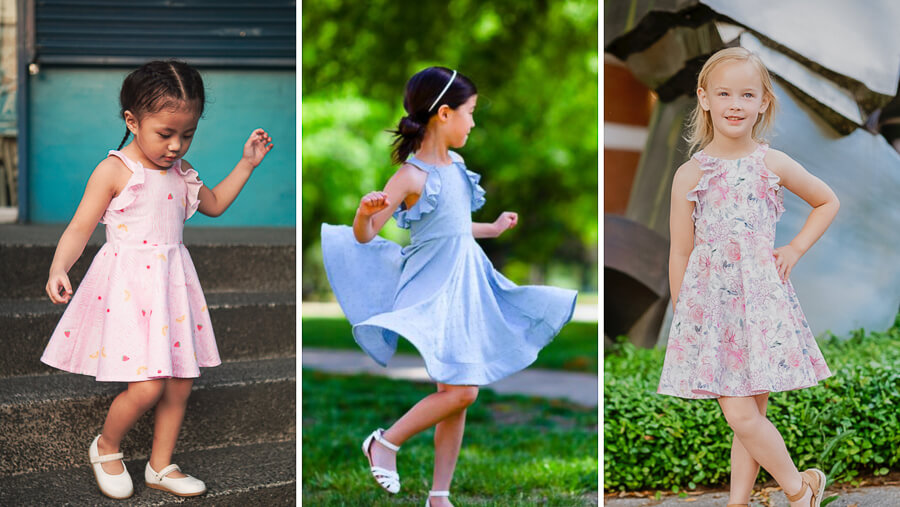 The Swing Skorts
For summer play, choose the swing skorts option to create a fun Amy playsuit. The wide legs create a flattering skirt look with the modesty of shorts.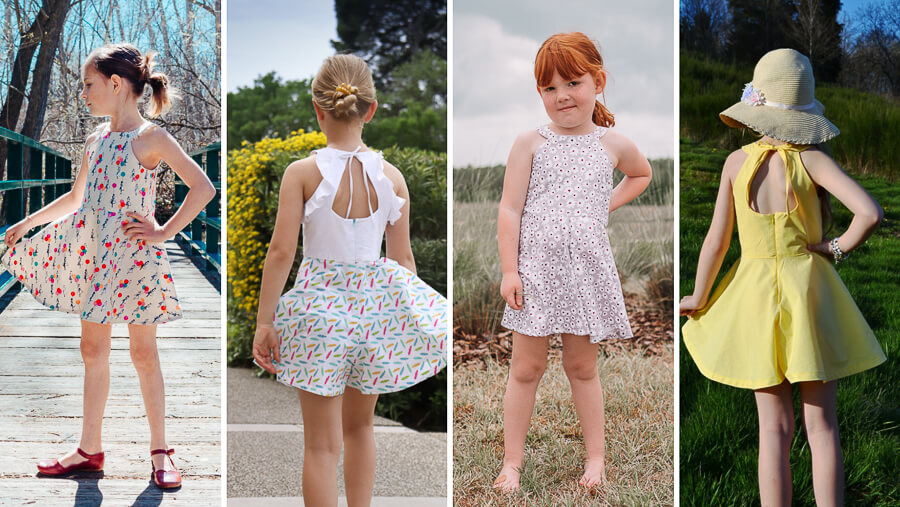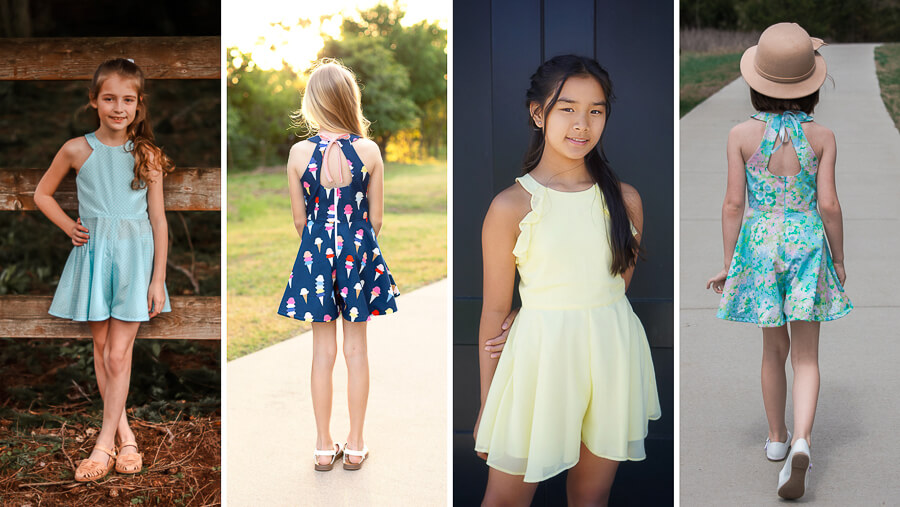 Amy Features
Fully lined bodice
Halter style with wide shoulder straps
Modest back cutout with zipper & neck tie closure
Slim to moderate fit
Optional armscye flounces
Knee length full circle skirt with bias trim or horsehair braid hemming instructions
Mid thigh length swing skorts. Perfect for play!
You can find the Amy patterns here in girls and tweens.
A bundle is also available.
We love to be part of your sewing journey. Share all your Vintage Little Lady creations in our Facebook Group.
Check out the full pattern collection at Vintage Little Lady.
A huge thank you as always goes to our amazing tester team –Angelique, Jessie, Elayne, Laura, Virginie, Deah, Meigan, Marcie, Beth, Noel, Julie, Lauren, Bernie, Laura, Jennifer, Jean, Dani, Tonia, Sara, Fiona, Becky, Carleigh, Rebekka, Nicole, Alicia, Tanja, Marian, Amanda, Stephanie, Kristi and the fabulous VLL owner and lead designer, Leah.
Happy Sewing
With Love
Beck