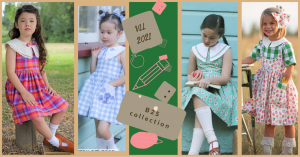 It's that time of the year again— after a long, sweet school holiday, we are sending our littlies back to school. It might be a yearly routine for some of them, and for some, they are about to start a new chapter of their little lives.
Have you started collecting those little things for first day of school yet? New backpack, new pencil case, new lunchbox? What about the new outfit ?
Check out the VLL 2021 B2S collection if you haven't already done that!!! Dragana box pleated dress, Eva Faux pinny and Bailey Scalloped bow are the best solutions to send your little girls to school in style~~ 📖
EVA is a sweet member in the VLL Back To School collection. She is named after my first born Eva, who is beautiful, sensible and extremely sweet. Eva is my best friend, she is the dream daughter any mum would ever pray for, she is the biggest treasure of my life
.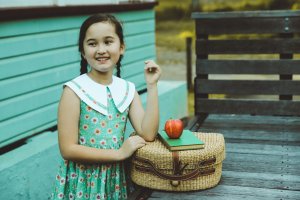 The Eva Dress offers literally limitless customisation options, the perfect companion to bring out the fun and flair in each child. The base of EVA dress is a vintage collared dress, with a straight skirt. whether making with sleeves or not, she is a straight forward sew, suitable for any amateur or professionals.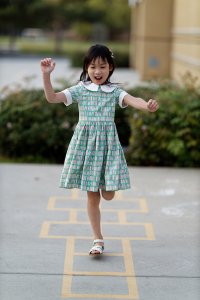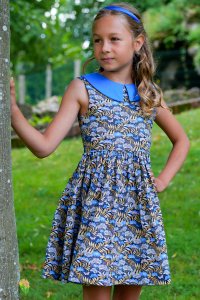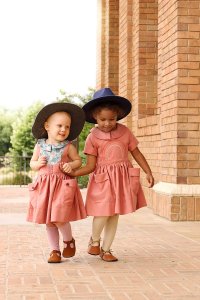 From here, there are many tailoring options to inject your style and your child's personally into each piece, including:
Unique faux Pinny Look Bodice VS. Simple Bodice. The signature faux pinny look of the skirt is the most popular part of this design — you easily achieve the classic vinty look without tons of layers.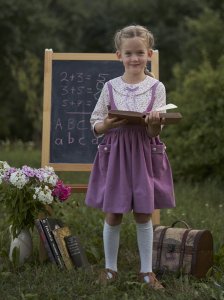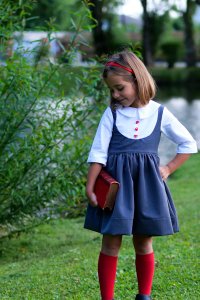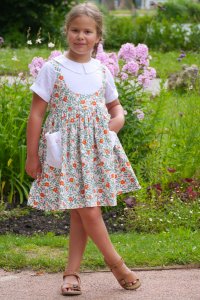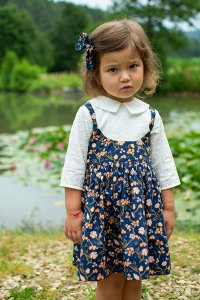 When you only have a couple of hours and want to quickly whip up a new outfit, the simple version comes handy, and still with tons of options to make your sew stand out from the crowd.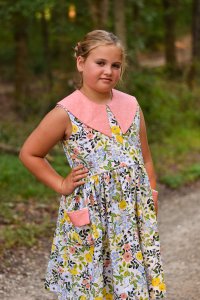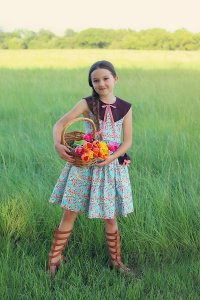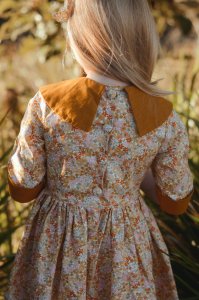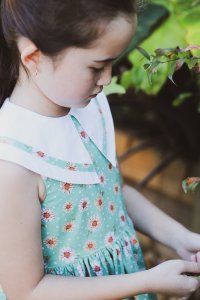 Wide Collar VS. Narrow Collar. While the wide collar brings in the classic old school vibes for either holidays or events, the narrow collar is all about day to day sweet look.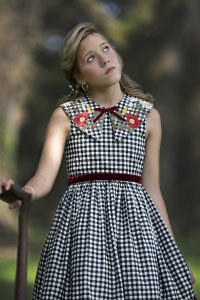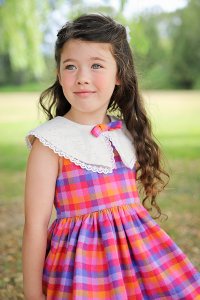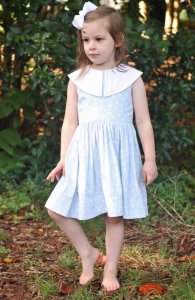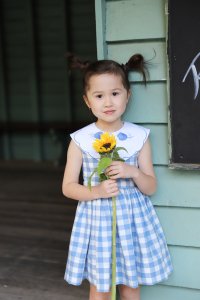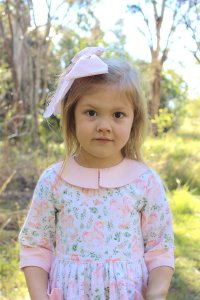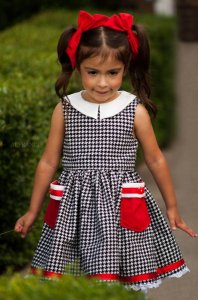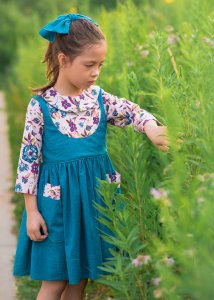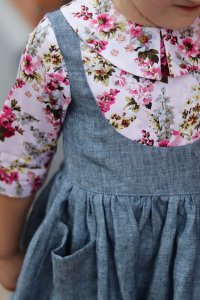 Sleeveless VS. Short Sleeves VS. Elbow Sleeves. 3 sleeve length options ensure you use Eva all year round for almost all weathers. From breezy summer sailor dress, to beautiful fall back to school outfit, Eva dress fills up all the gaps.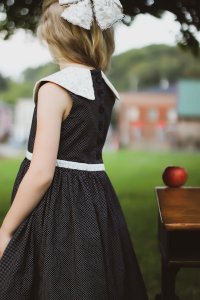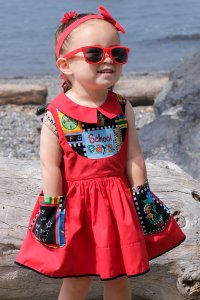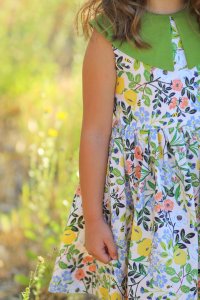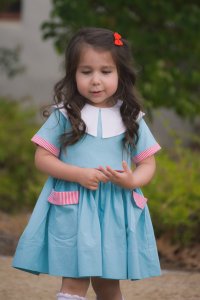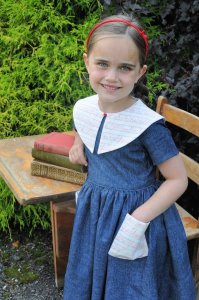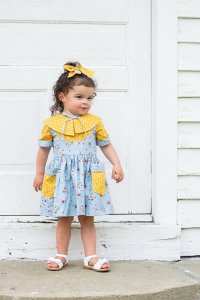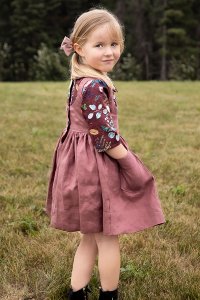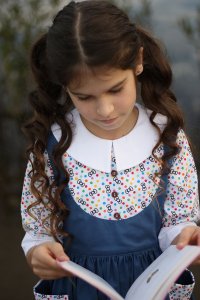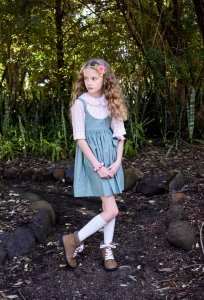 Optional Sleeve Cuff,
Optional Pockets with Optional Pocket Cuff. If you are all about details, adding cuffs onto your sleeves or pockets is always a great idea. Buttons, lace trims, snaps, embroideries …. all the sweet additions can be then thrown on too.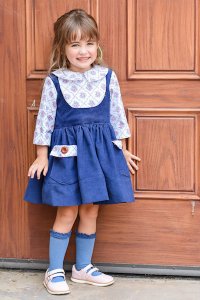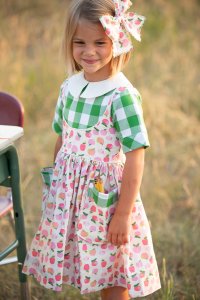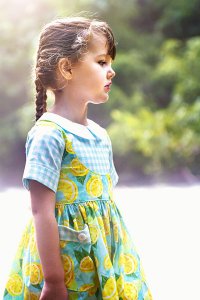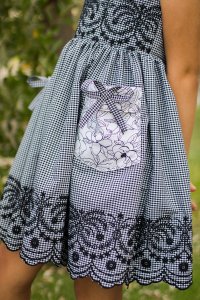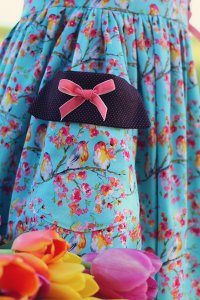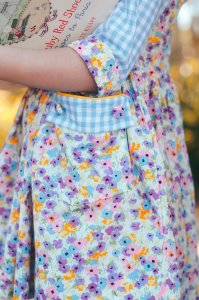 Thank to the unique 2-piece-look and cuffs of sleeves and pocket, EVA is the best pattern to use up your small piece fabrics hoarded in your precious scrap collection, doily collection, family hand-me-downs, so just simply any upcycled special material.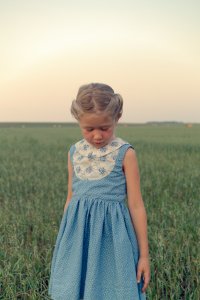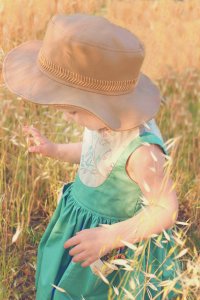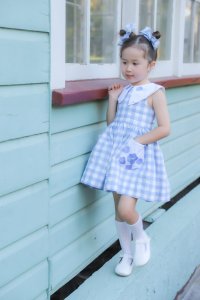 As much as we love Florals,  we'd like to mention that we found Eva works extremely well with check patters. Eva+Check = perfect school vibe even for your pre-school aged littlies.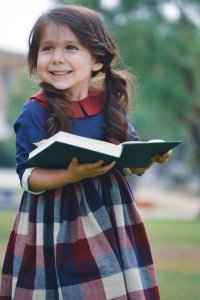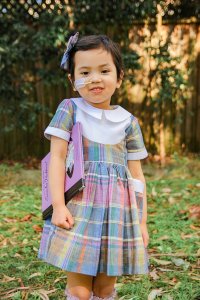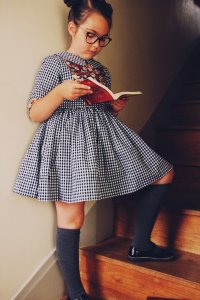 Last but not least, Eva tween sizes are perfect outfits even for grown-ups.  Imagine yourself wearing matching outfit with your darling girls on the way to school? Be prepared to receive billions of compliments from strangers ~~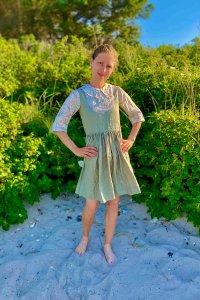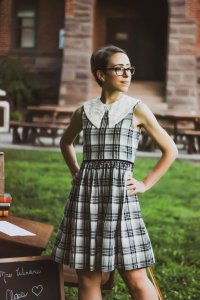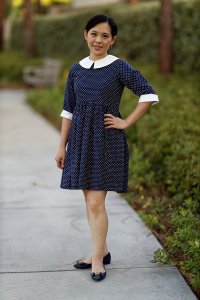 … so what memories will you create for the first day of school?
Big thank you going to our amazing testers: Alicia, Amanda, Amber, Amy J, Amy M, Angie, Asheley, Axa, Becky, Bettina, Bianca, Christine,  Corinna, Denise, Erin, Genaelle, Hannah,  Janice,  Jeni , Jennifer, Jess, Jessica, Joy, Juana, Kate, Kaytlynn, Kim, Lindsay, Malene, Marcie, Monika , Nadia , Noémie, Rose, Sharvana, Susan, Taylor, Tonia, Vanessa, Yuli, Our amazing designer, my lovely friend Milja, and the sweetest boss Leah.
XX LOTS of LOVE
Evie