I am so excited to introduce the wonderful talent behind Vintage Little Lady's July Sew Ups! The choices were difficult to make, with so many gorgeous submissions, but we hope you enjoy these pretty inspirations created by  Victoria & Debbie!!! CONGRATULATIONS!!!! Their sews were so very creative and well thought out down to the buttons, embroidery details, and fabrics! Victoria's sew features our FREE sewing pattern BABY CHLOE while Debbie's sew features our sweet, vintage accessory pattern MA CHERIE! Both of these ladies have such STUNNING taste! Victoria and Debbie  both have shared lovely photos and a SWEET back story of how they got started in the journey of sewing and their thoughts & details on each one of their sews! Sit back, relax, and enjoy the journey of these two ladies below!
Victoria Bozic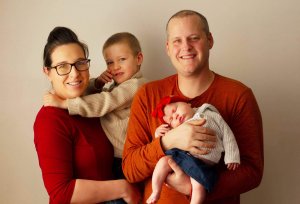 Victoria's  VLL   Sew  – Baby Chloe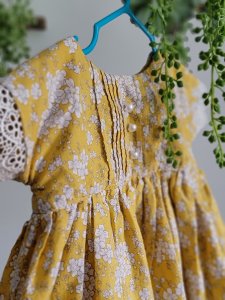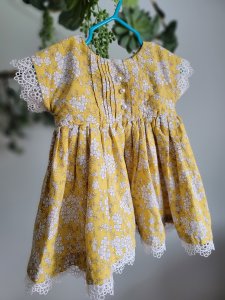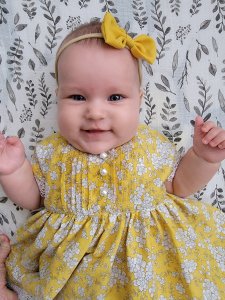 A Word from Victoria:
Hello! I am originally from Missouri, USA and now live in Ontario, Canada with my husband (Daniel), 4 year old son(Asher), and 6 month old daughter(Elise). I have always been in love with all things creative and have dabbled in a little bit of everything. I worked as a photographer for about 10 years but stepped away from that when I became a mom. I still greatly enjoy photographing my own children. I got into sewing a few months ago. The arrival of my daughter is what inspired me to give sewing a try. I wanted to dress her in beautiful vintage dresses but realized that finding those types of pieces to purchase was no easy task. I already had a sewing machine and a knowledge of the basics that I picked up in high school home economics. All I needed was to find some beginner friendly vintage dress patterns. Enter Vintage Little Lady with
Chloe
!
Chloe
was the perfect pattern to enter the world of baby dress making. I struggled a bit at first but the ladies in the VLL Facebook group were so helpful and by the 3rd dress, I felt like I really knew what I was doing. I have now made 6
Chloe
dresses. For this
Chloe
, I decided to try pintucks for the first time. While I know they're not perfectly even, I love the end result of the pintucks on the bodice. All the little details came together beautifully for this Chloe and it is my favorite make so far.
Excited to be a part of the VLL community and to learn more and become more proficient at sewing!
**************************************************************************************************
Debbie Lafrenz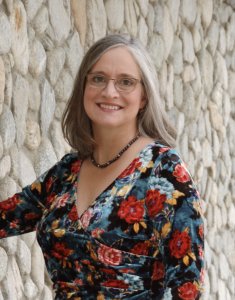 Debbie's VLL    Sew  – Ma Chérie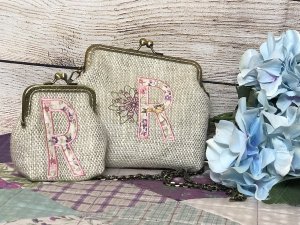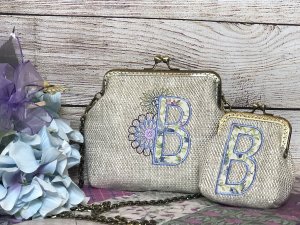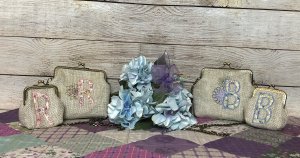 A Word from Debbie:
Hello, my name is Debbie, and I am an addict.  That is, I am addicted to all things sewing; sewing machines, I have 4 that I actively sew on (10 total, yikes), fabric, notions, patterns, absolutely everything.  I have sewn since I was 6 years old, I started sewing by hand.  By 8 I wanted by own sewing machine and my grandmother gave me her old Singer 301 (I still have it and it works great).  My Mother and my Grandmother taught me to sew.  The only sewing class I ever had was Professional Finishing Techniques for 1 semester in Jr. College.  Now 50+ years after I began sewing, I still sew for myself, my daughter, my 4 granddaughters, and my 1st grandson who's due in December.
These Ma Chérie clutches were for my 2 oldest granddaughter's birthdays.  Riley turned 11 and Brooklynn turned 9.  The outside is sewn from a course weave linen and the inside is a quilter's cotton both are matching prints in different colors; they came from my late Mother's fabric stash.  I used a fusible woven interfacing on the back of the linen.  The embroidered monograms were downloaded designs from embroiderydesign.com and stitched on my Bernina 830s.  I used 3 strands of matching DMC embroidery floss to sew the clutches to the kiss clasps.
I absolutely loved ALL of the Ma Chérie clutches everyone was making; and I had to make some myself.  They are fun to make and each one turns out so individual.  I just love them.  The girls loved them too and LOVED that they were made just for them as they too love anything handmade.
**************************************************************************************************
A huge THANK YOU to all for entering the July Sew ups contest, and for sharing all GORGEOUS sews with us! We always look forward to seeing all your makes, and appreciate your loyalty to Vintage Little Lady. That is all for this month of lovely July Sew Ups. Tomorrow begins a new contest, so once you're finished with your current sews, be sure to add them to the album which will load tomorrow!! We enjoy learning about each of you. You can see all of the BEAUTIFUL sews that have been displayed in our Vintage Little Lady Pattern Group on Facebook!  Enjoy your day  and we will be back next month!!!
With Love,