Spring is here!!!  This is the time of the year when the weather starts to warm up, flowers are blooming and butterflies are everywhere.
Introducing Vanessa
The Vanessa dress is inspired by butterflies, a symbol of change and transformation, hope and new beginnings. The name Vanessa means butterfly and is also the name of my oldest twin daughter.  At the beginning of this year, I was presented with a new opportunity to be a designer at Vintage Little Lady. I left public accounting almost 5 years ago to be a stay-at-home mom. As I am entering a new decade in my life, I never would have thought a career in design was in the cards for me.  Talk about change and new beginnings!  Just like butterflies having qualities of freedom and earthly beauty, I get to work with this team of amazing women to freely create, to inspire and be inspired, to make beautiful patterns and garments.  I am excited for this new adventure!
Sleeves
Flutter into spring with this unique, statement butterfly sleeves!  Finished with a rolled hem, add trims or contrast bias hem.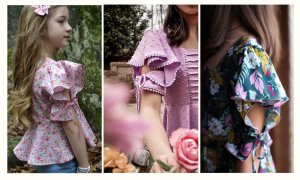 Bodice Options
Vanessa features a square neckline with princess panels. The tutorial includes instruction on wide pleating.  Another wonderful thing about this pattern is that the center bodice is the perfect piece to play with pleats and pintucks. Vanessa allows you to be creative and make it yours!
Skirt/Peplum Options
There are two skirt options:
Single Layer 3/4 circle skirt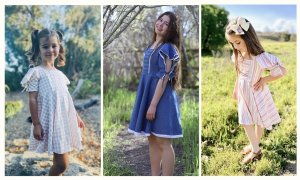 Double layer 3/4 circle skirt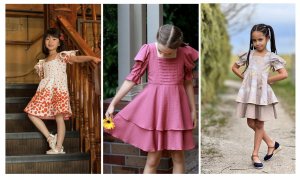 Or, as a peplum top!  Yes, everything in fashion eventually comes back around and peplum is one that has return from early 2010's to fashion for 2023!  Sew it up with stripes or in a playful, adorable patterns, such as florals, plaids, gingham.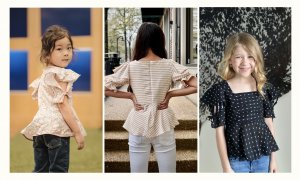 Vanessa Features
Single layer 3/4 circle skirt
Double layer 3/4 circle skirt
Peplum option
Plain Bodice Option
Pleated Bodice Option
Contrast Bias Hem
Vanessa patterns is available in girls and tweens here.  Bundles are also available.
Please share all your creations in our facebook group and/or your social media with #VLLVanessa.  We can't wait to see your Vanessa makes!!!
A big thank you to our amazing testers: Chandy, Heather, Tanja, Victoria, Jie, Rutee, Tóra, Davita, Sophie, Julie, Elayne, Tamara, Kara, Ashley, Bernie and Beck.
I would also like say a special thank you to the beautiful, wonderful Leah Pitkin for the chance to bring this design to life.  And to both Leah and Beck, thank you for your help and support through this whole process.
I am excited and can't wait to bring you the next design!
Hugs
Jessie