Spring is FINALLY here! And with the sun emerging from the overcast sky, and the blooming flowers comes some of my favorite times to sew for: Easter and warmer weather! The other very exciting event of the month was the release of Vintage Little Lady's second pattern design, Bristol! Could anything scream vintage or warm weather more than shoulder ties, bib style and an adorable top option? There are so many ways you can dress up Bristol (see our last post for ideas), PLUS it is available in doll, girls AND tween sizes! Want to sew Bristol or Opal for yourself? Click the buttons below!
Hiya there! My name is Nacole McGhin and I live in South Georgia. I started sewing about 10 years ago and LOVE it. It is really funny, because in high school I took a home ec class and half of the semester was sewing and I hated it. Now, it is one of my favorite things to do and such a stress reliever. My sewing started when my youngest sister was getting married. She ordered a flower girl dress on eBay, and when she received it, it was so simple. I thought, "I could make this for so much cheaper than what she paid."  Y'all, if only I knew about the term, fabric addiction, I would know this was not true! 
After a few fails, I was bitten by the sweet feeling I got when she wore the dresses I made for her. I have been hooked ever since. Now, I have my own daughter, a 1 year-old son and am fixing to have another little boy soon. I sew for them, and for all of my customers, too.
When I saw the first pattern by VLL, I had to sew it up immediately! I loved the classic look of it, and it screamed sweet spring florals and plaids. I was off to the fabric shop to find just the perfect ones! Moda to the rescue! I fell in love with the fabric line, Charming Amberly, and knew it was just what I was looking for!
One of my favorite things about this pattern is that it looks fantastic in every fabric combination I have seen posted [in VLL's Facebook group], from pretty florals, to bold pattern mixing. I am currently working on a summer themed one for the beach with a shortened skirt! I can't wait to share it with you in the VLL sewing [Facebook] group, and I will also post on my social media outlets. 
Follow Nacole at https://www.instagram.com/owlfeetboutique and https://www.facebook.com/owlfeetboutique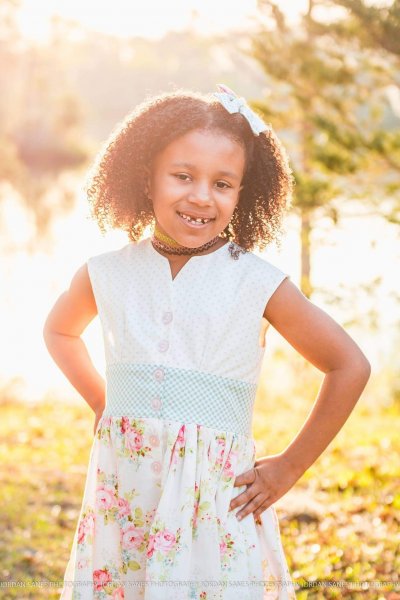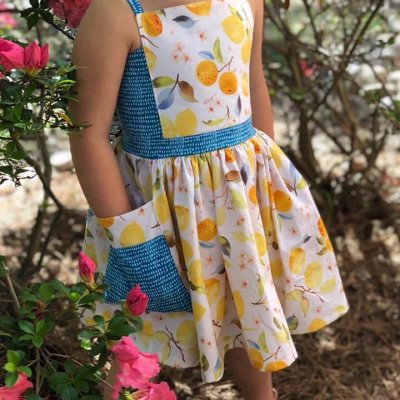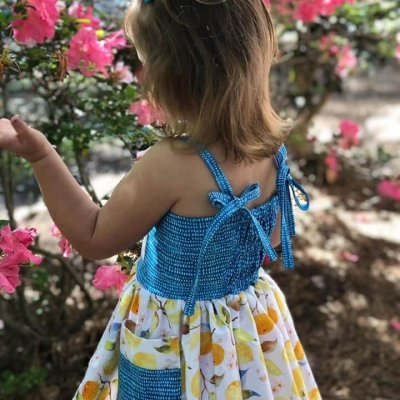 My mom taught me to sew when I was young. I remember the hum of her sewing machine, as she created at our dining room table in the kitchen. She called me her co-pilot, because I would stand on the back of her chair as she sewed. That's where my love of sewing began, on the back of a chair, looking over her shoulder.
Flash forward many years, and now I have two wild children of my own! It wasn't until I had my little girl that I began sewing from patterns. I love being inspired by fabric and patterns, like Bristol! The fabric I chose for this Bristol is from my favorite local fabric shop, Sew This. The lemon fabric is from Blend Limonella line, and the blue is Blend Mermaid Days. I love the hints of blue in the main fabric. Originally, I had purchased the fabric for a romper, but when Bristol released I knew exactly what it was meant for!
Bristol is such a lovely dress, and an easy pattern to follow. Sundresses with little details, like the low back ties, make my heart melt. And my daughter was sold on the big pockets. There are trolls and Hot Wheels in those pockets in the photo. I can't wait to sew up many more and share with you all! I can't wait to see where Vintage Little Lady takes you, Leah!
Follow Jamie at https://instagram.com/magnoliaruffles
A big thank you to Nacole and Jamie for entering the April Sew Ups Contest, and for sharing their gorgeous sews with us! I have been so excited to see all of the beautiful sews that you have been sharing in Vintage Little Lady's Facebook Group! There is so much inspiration and encouragement, for everyone from beginning sewists up to the experienced. Want to see more amazing creations and inspiration? Come and join our Facebook Group! Click the button below to join, and have a beautiful week!