Embellishing Bristol

Have you ever sewn up a pretty dress (or top) only to find that you feel it looking just a little Plain Jane no matter how awesome the pattern is on its own? Maybe you are simply someone who likes things to look a little extra? If so, then you're going to fall madly in love with Bristol because it is the perfect pattern to spice up.  The moment I saw this pattern my heart started racing because I could dig through my endless stash of trims, buttons, and other unique embellishments. Who doesn't like to play in their stash of all those goodies? While I know I'm not alone in this, I have heard some of you ladies ask where or what to use as embellishments. So I'm going to help you out & show some beautiful examples below.
Bib Embellishments
Bristol offers a large front bodice bib, and it is the perfect place to showcase any artwork, embroidery, accent buttons and variety of trims.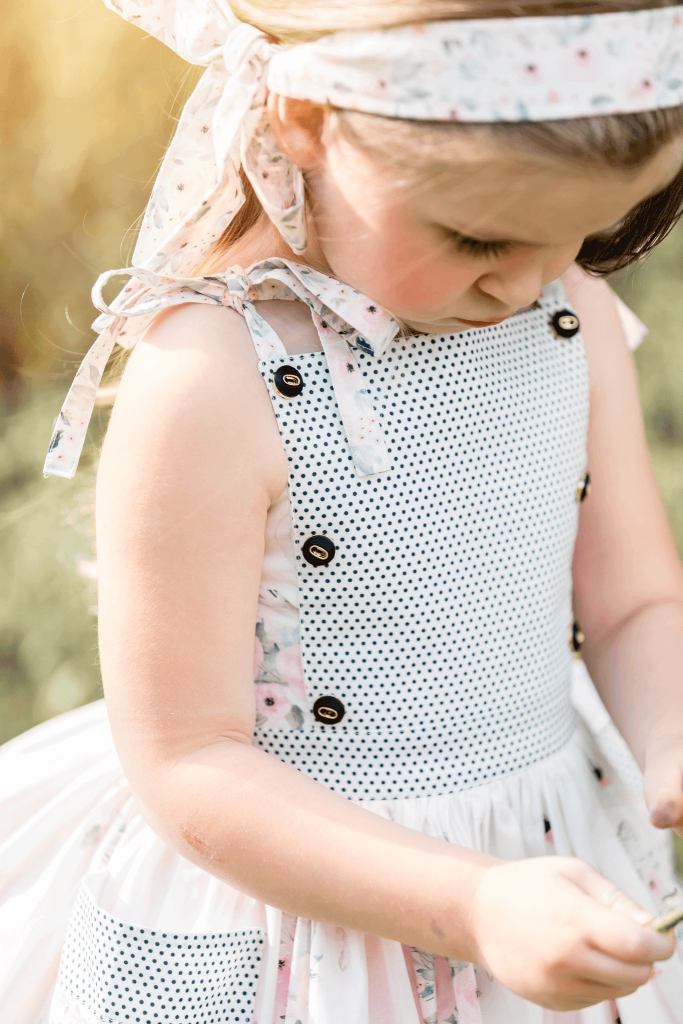 Buttons
The bib on Bristol is simple, but dying to be jazzed up… like with buttons for example. These buttons are non-functional; however, they add texture and the look of functional buttons. I don't know about you, but I'm all about the beauty of buttons without the hassle of a button hole! You can add 6 buttons like above or 4 on the corners for a more classic look.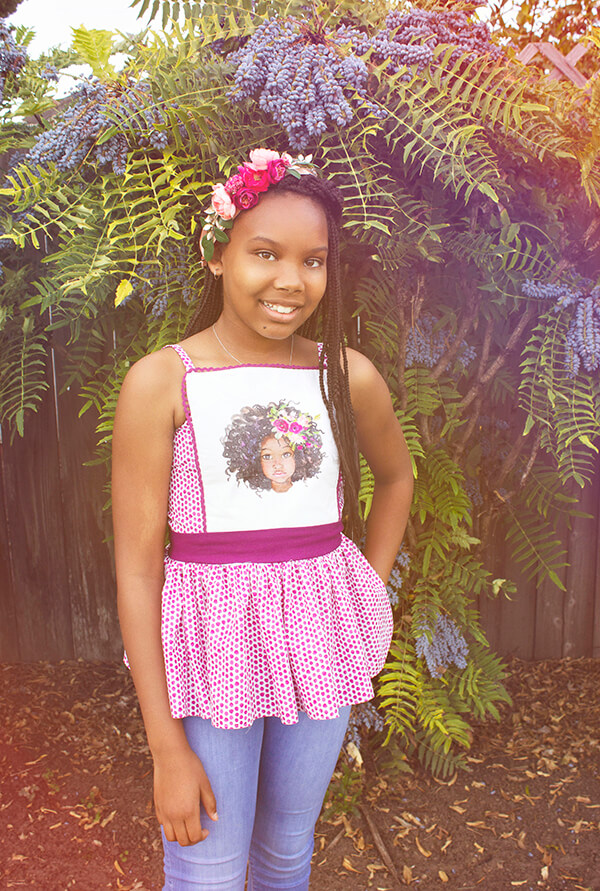 Custom Panels
We all know how hot custom fabric is right now, and the Bristol bib is perfect for their custom panels. Our tester, Dani Faye Bramlett, used this gorgeous flower child panel  from Q|A Fabrics to showcase its beauty front and center. We just love how amazing it looks! She also added piping around the outside of her bib for even more pizzazz. Seriously could it get anymore cool for a tween than that?!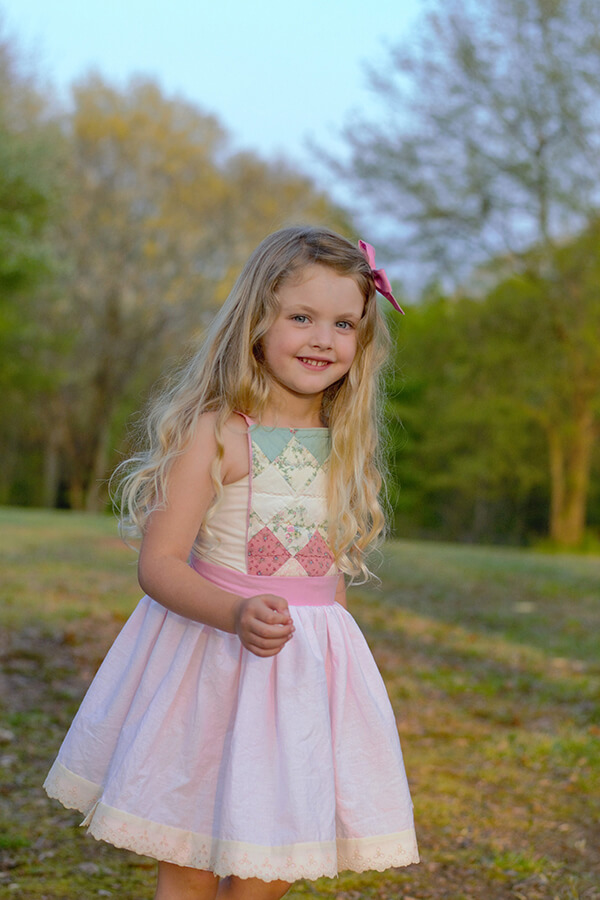 Vintage Upcycles
Do you enjoy taking what once was something amazing in a former life: a quilt, tablecloth, window dressings and the such; and get a thrill by giving them a beautiful second life? Well, so does this talented tester, Haley Hayes Bolton (daughter shown above). Of course the bib showcases those once old items in the most unique and delicate way for a stunning finished look.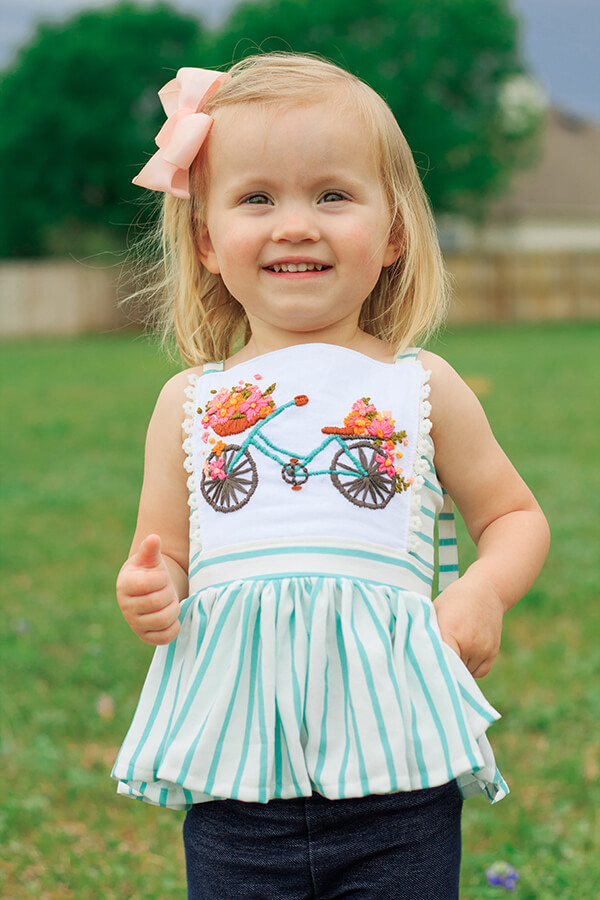 Hand Embroidery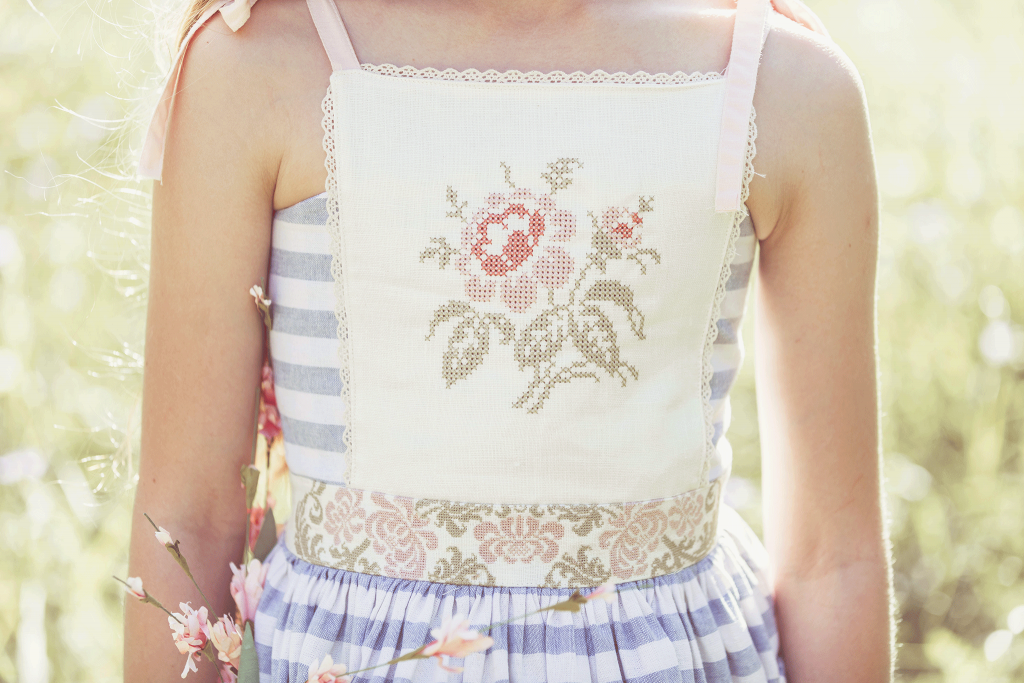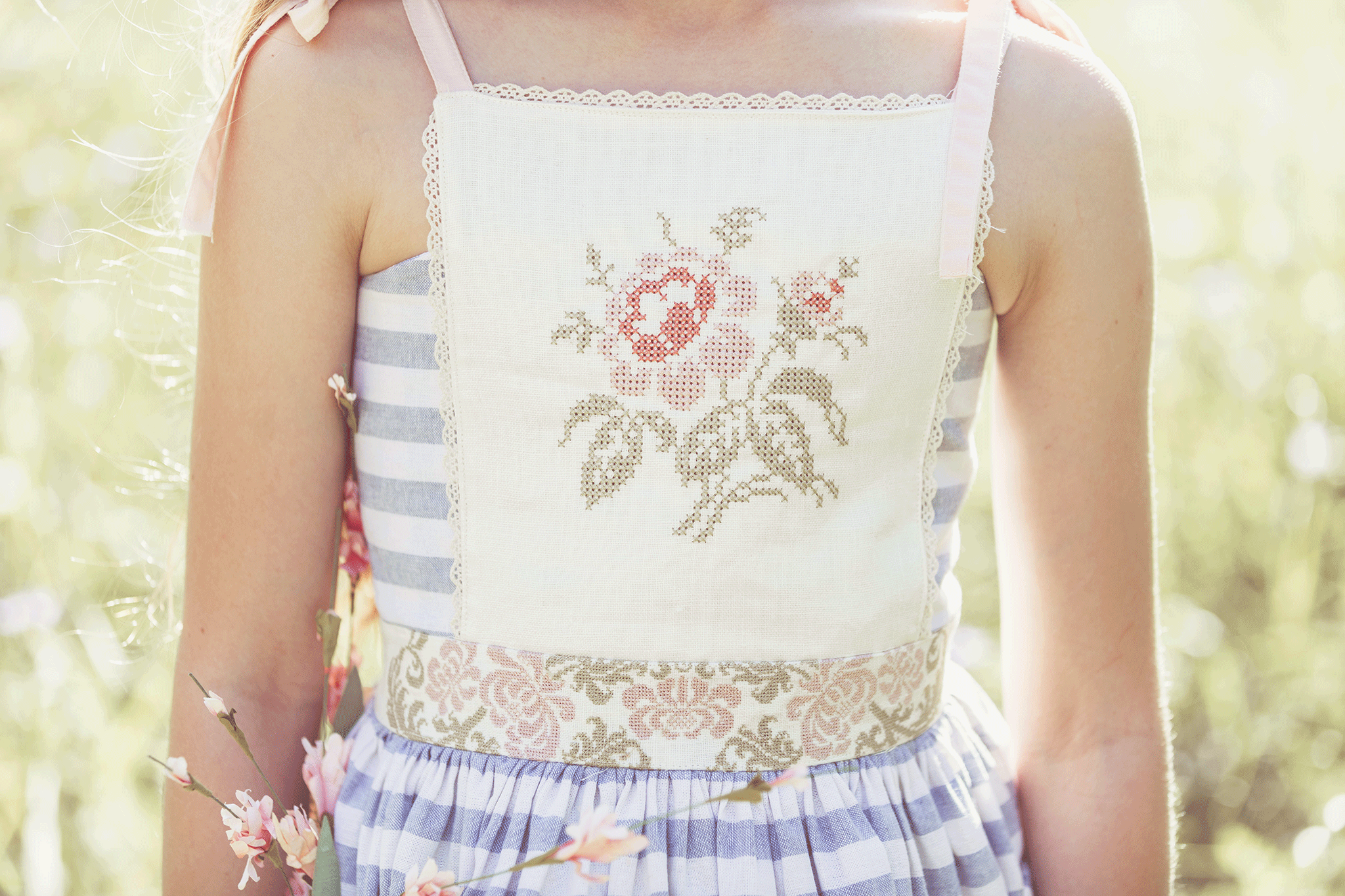 Machine Embroidery
Embroidery is an absolutely incredible art form. Some people do it by hand, while others (like me) are too impatient to sit still, so they utilize a machine (like Leah did above). Tester, Katie Farnham, has us blown away speechless with this amazing bicycle embroidery. I am in complete awe of those of you who hold that vintage talent of hand embroidery & absolutely can't wait to see more of it done on this pattern.
Onto the Pockets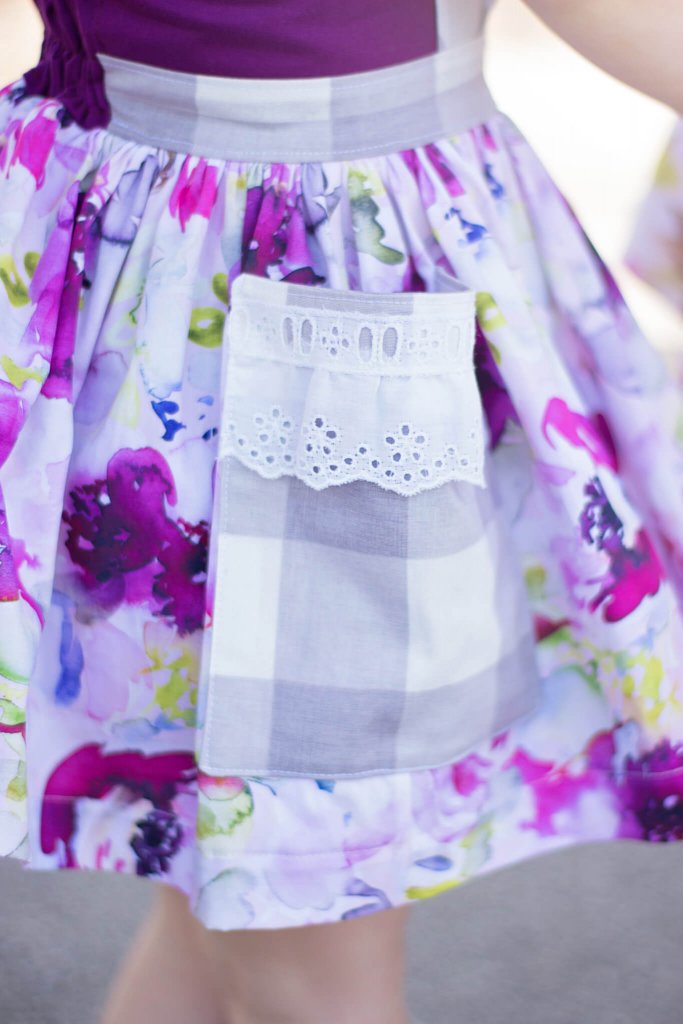 Solid Pocket Embellishing
The Bristol pattern offers 2… YES! You read that right, TWO pocket options. One is a solid pocket (shown above), and the other is a split pocket. I chose to utilize the solid so that I could do a simple look that showcases the beauty of the pocket without taking away from the skirt fabric from The Styled Magnolia and top stitched a classic cotton lace trim to the top. In order to do embellishments like this on pockets, you will want to top stitch your lace or other trim to the front of your main (outside) pocket piece. Once you have done that, you will sew your pocket pieces together regularly. This ensures that your trims are secure and have beautifully clean edges just as they would without trim, and none of that fraying inside the pocket while your little girly tries to pocket her most prized treasures.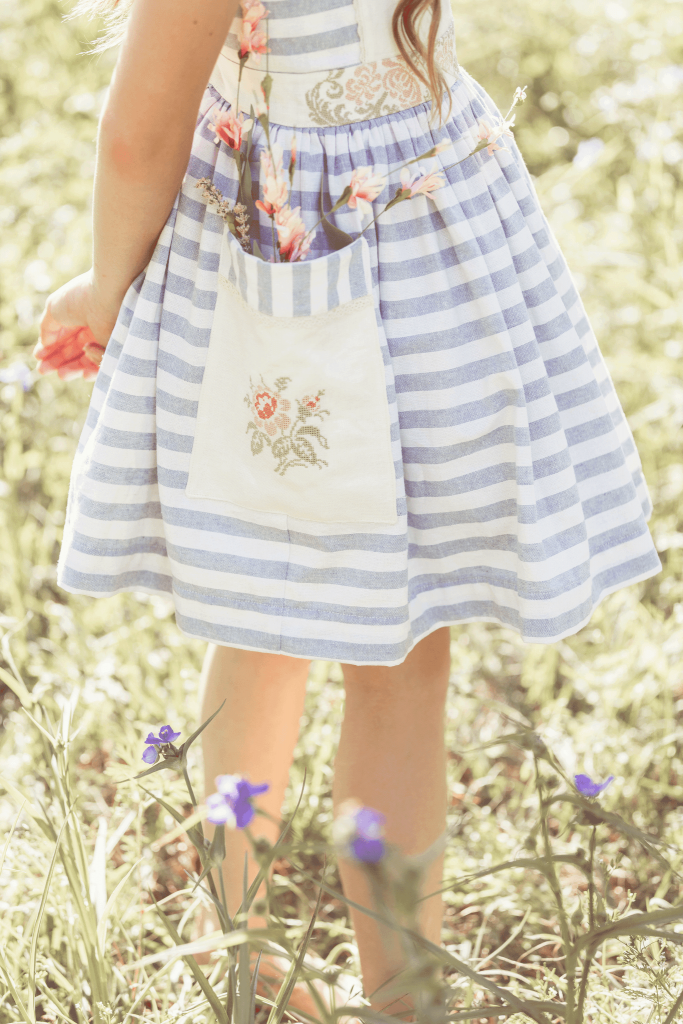 Embellishing a Split Pocket
The incredibly talented Leah Pitkin used the split pocket (shown above) to create her own work of art on her daughter's Bristol. Utilizing pockets for accents is a fabulous technique, and one I particularly love!! I mean seriously what little girl doesn't love pockets, right?!  To get this look, she turned her stripes vertical on her horizontal skirt, and added some jaw dropping vintage machine cross-stitch to the bottom portion of her pocket.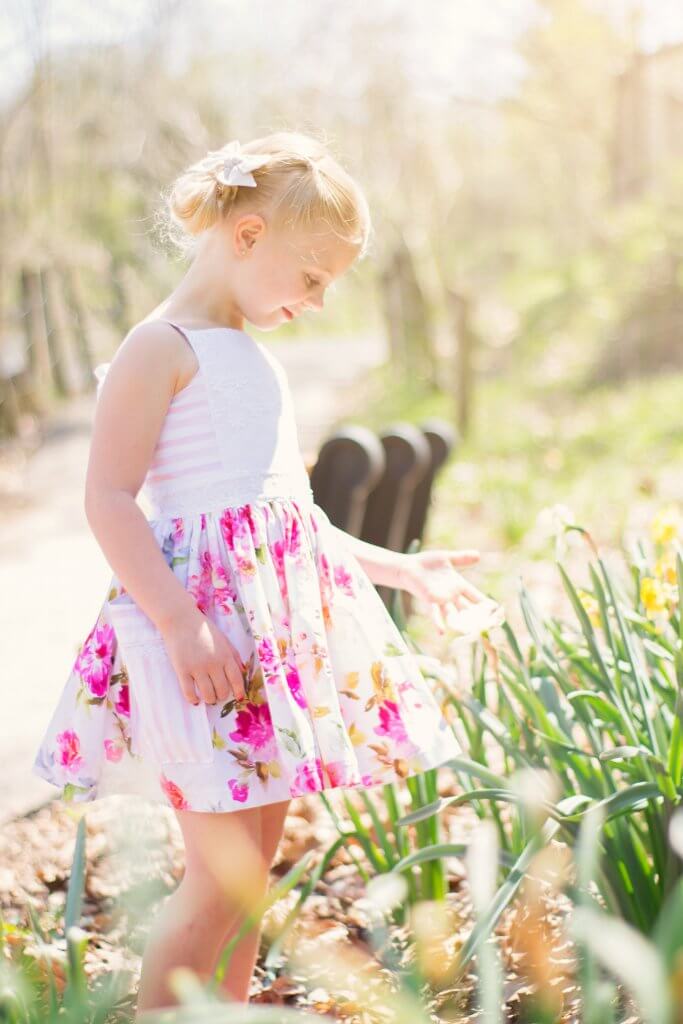 The possibilities truly are endless with embellishments for Bristol, and all your favorite patterns. You can honestly add trim anywhere: the straps, skirt hem, waistband… and much more. We can't wait to see all your gorgeous unique takes on this amazing pattern. Now go have some fun in your sew room, and play like a kid in a candy store in those embellishments.
XOXO