Introducing Avery
Functionality, versatility, and most importantly, beauty, are things that I strive for
when dressing my girls and myself. I adore clothing that lets us be ourselves, and the patterns that I return to over and over are the ones that give us room to make each item as unique and individual as we are.
These three attributes were very present in my mind as I worked on designing Vintage Little Lady's very first pattern for knit fabrics. I am thrilled beyond words to present Avery.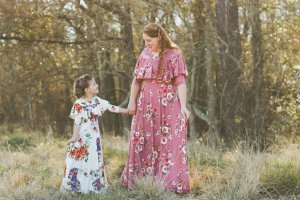 Avery is named for my second daughter Katelynn Avery. Avery is her pet name that we call her and she was very pleased that we named this dress for her. Knit fabric is her absolute favorite and given her love for soft clothes, it seemed the perfect name for this gorgeous, dreamy dress.
Functionality:
Knit fabric is by far my favorite to sew, and it is ideal for everyday wear and doesn't often require ironing and starching to look put together. Knits are very comfortable, making them a favorite with little ladies and grownups alike. Knit patterns are often very easy and fast to sew, making them ideal for the last minute "Oh, we need a new outfit for this!" occasions that pop up. Knit designs have saved the special occasion more than once for me!

Versatility:
Avery has an amazing range and is appropriate for every occasion. Depending on the fabric you choose, Avery can be elegant and classic—ideal for weddings, banquets, or any other special occasion. With her maxi length 3/4 circle skirt, Avery will make your little lady or you feel like a queen. It is the ultimate twirling dress. For other less fancy occasions, Avery has a tea length skirt that sits at midcalf, and a standard length skirt that sits above the knee. Long sleeves are ideal for cooler weather and the 3/4 sleeves make for a wonderful transition to spring.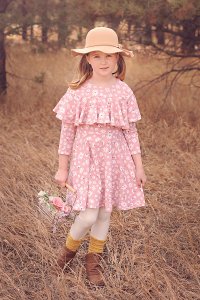 Avery can be made from a wide variety of knit fabrics, with double brushed poly being my personal favorite. Avery also works well with cotton spandex (Art Gallery, Riley Blake, Hawthorne Supply Co.), stretch velvet, bullet and Liverpool knits.
Beauty: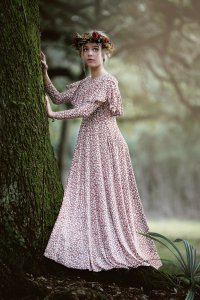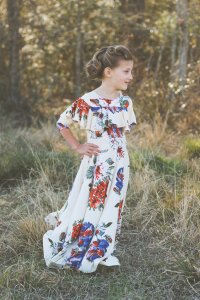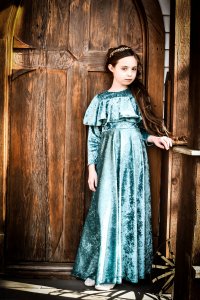 To me, the most important thing when designing and making a garment is how it makes you feel. How many times have we heard that a bride just "knew" that she had found the perfect dress? How did she know? She knew because of how the dress made her feel. What we wear has a huge impact on how we feel about ourselves. When you wear a beautiful garment, you feel beautiful. Avery is no exception to this.
As I already mentioned, Avery has a gorgeous 3/4 circle skirt in three lengths. Another stunning feature of this dress is the fabulous flounce around the shoulders. It is delightfully feminine and unique and is flattering for all shapes and sizes.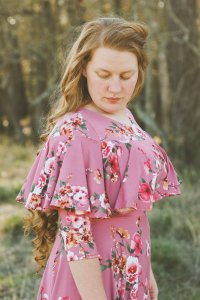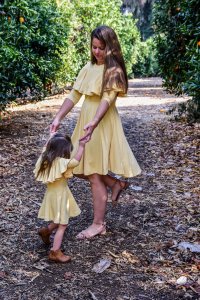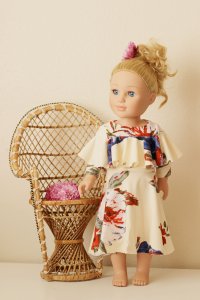 One of the things that I have been most excited about with the release of Avery is offering the pattern in four size ranges: Girl's, Tween, Women's, and 18" doll. This is ideal for sister sets, mommy and me outfits—the possibilities are endless!
Avery is a great pattern for sewists who are new to knits. Included in the tutorial are lots of tips and tricks for sewing with knits for the first time—even if you don't have a serger. As someone who used to be terrified of knits, I share all of the things that helped me become successful with knits and I am so excited to help you get started.
I must give recognition to VLL's incredible testing team. These ladies help us perfect our patterns and bring them to life. They take our vision and run with it and make the pattern even  better than we imagined. They are the most amazing group of artisans I have ever had the privilege of working with. I cannot say enough about all they do.
Happy Sewing,
Rebecca Hickman