Olga cape is a classic, sophisticated piece that adds style & chicness to any look!
From Audrey Hepburn to Princess Diana, Jacqueline Kennedy or Elizabeth Taylor. Capes for sure have vintage vibe but never go out of style.
I love capes for a few reasons:
You always feel magical when wearing one!
It's a coat alternative for all seasons.
A chic complement to both casual look and special occasion dress.
They are very comfortable (a priority for kids!)
It's a dream if you love layers (a must for the weather in Texas!)
Olga cape is designed to gently wrap around the shoulders. It will keep you warm and you can combine it with a variety of outfits –dresses, skirts, jeans and boots. Its perfect for everyday life, at school, on a visit or for a walk.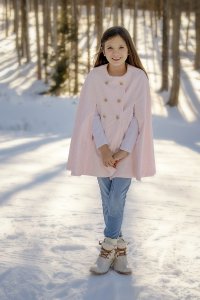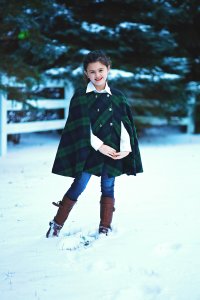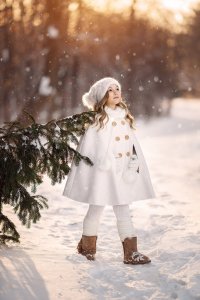 Make a statement with a bold and strong color or opt for neutral colors that have an eternal charm. Add a pop of fun with a colorful and joyful lining fabric, covered buttons or an embroidery.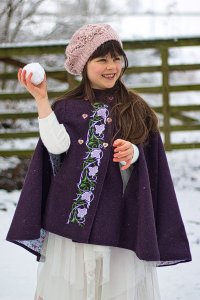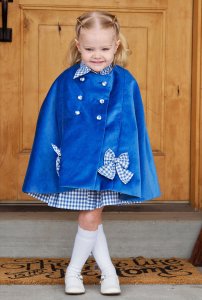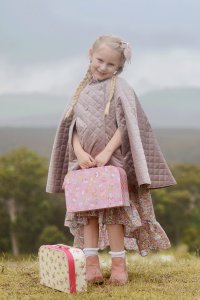 The imagination of little kids takes them far and wide.  From the nostalgic spirit of ancient tales of Queens and Kings, Warrior princesses fighting dragons to Super heroes with capes of invincibility. Every day is truly magical.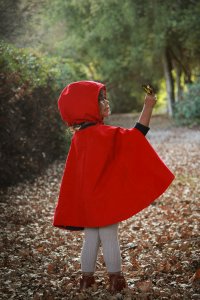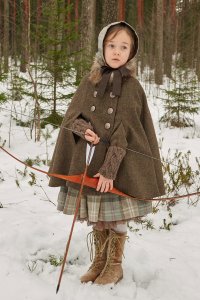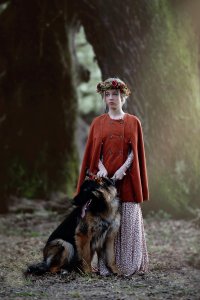 Olga Cape features:
Double button front closure
Front arm openings allow for a full range of movement.
Round neckline
Vintage length
Size 18"Doll, Girls 2T-9/10 and Tween 10-16
PDF, A0 and Projector Files
Olga Cape is the outerwear that can make you feel like a superhero-meets-amazing-chic-detective!
I couldn't have finished this pattern without the help of our lovely testers!  They made so many beautiful things and provided invaluable feedback! Thank you Alicia, Andrea, Amanda, Vanisha, Amy, Lacey, Vanessa, Jacqueline, Asha, Hannah T, Clair, Nicole, Sahara, Susan, Christa, Ania, Jenn, Emily, Jennifer, Justine, Joy, Lindsay, Becky, Whitney, Hannah W, Katie, Bec, Lucy, Katy, Yuli, Nikki, Cori, Sophie, Michelle, Davita, Nastasia, Malene, Leanne, Britta, Rose and of course wonderful VLL owner and designer Leah.
While sewing outerwear may seem intimidating at first, our step-by-step tutorial will guide you through the entire process of sewing a beautiful cape. With clear descriptions and photos, our designer tips and tricks you will see that sewing OLGA CAPE is completely achievable and ever so satisfying!
Give your outfit a touch of magic, and you are sure to fly and save the world!
#vllolgacape #vllolga #vllolgadoll #vllolgagirls #vllolgatween
With Love,