May Sew Ups
What is the Monthly Sew Up
You may have seen our monthly blog posts featuring two lovely sewists and their beautiful creations, but wondered what it was about. Well, let me tell you all the details regarding the Monthly Sew Ups. Each month ladies add photos of their Vintage Little Lady sews, and two are chosen to be highlighted for all to see. You may be asking yourself how you can be featured in a blog like this, so lets go over that now.
How to Submit Monthly Sew Ups
At the first of every month, a photo album will be posted in the Vintage Little Lady (Facebook) Group and this will be where photos will need to be uploaded to showoff your skills and talent (as well as your girly's sweet looks). This album stays open through the 22nd of the month to submit for your chance to be showcased in the blog. We will announce the winners in the pattern group (Facebook) on the 25th of every month, and our blog posts on the last day of that month. We love seeing you all make gorgeous pretties, and look forward to this blog post each month. We also get excited about all the sew love for VLL patterns & the immense talent that is in our group of amazing ladies, so be sure to photograph your littles in their momma made pretties, and share with us in the appropriate monthly sew up album. You never know… you could be featured next!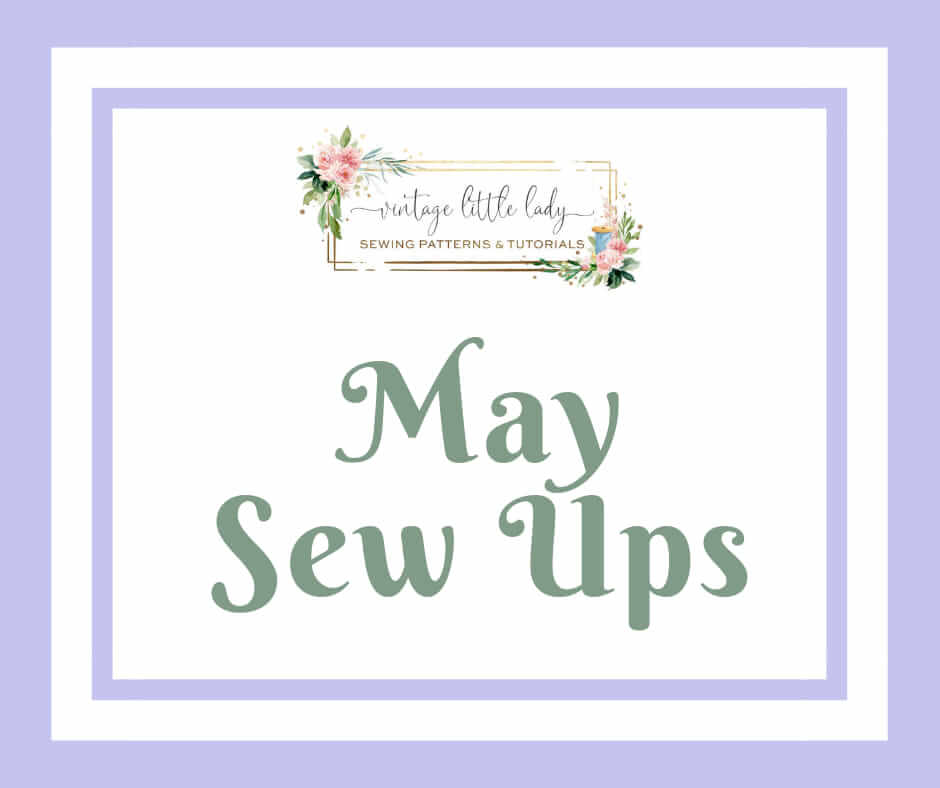 May Sew Ups Winners
This month was truly a fun one to choose from because we now have two gorgeous patterns in multiple size ranges to choose from. These days there is Opal in girls, doll & tween, and Bristol in girls, doll & tween as well. I don't know about you all, but summer is one of my favorite times to sew for. Plus, the weather is much more cooperative to get those pretty shots in all the pretty momma-made pieces. For May, we were wowed by two ladies' beautiful makes. Hannah Taylor posted a jaw dropper for us all to see with her daughter wearing this gorgeous vintage gem of a floral Bristol with shoulder ties. In case you missed it I will show you below. Her sweet photo shoot was even complete with kittens in the pockets! Can we all agree we 'ooooh & aaahhhhed' at them?! Then Dana Taylor wowed our socks off with an adorable back tying embroidered front Bristol top. Her daughter looked beyond proud and excited in her adorable little outfit, and with the flowers surrounding her it was just pure beauty. How about we find out a little about both of these sewing mommas?
Hannah Taylor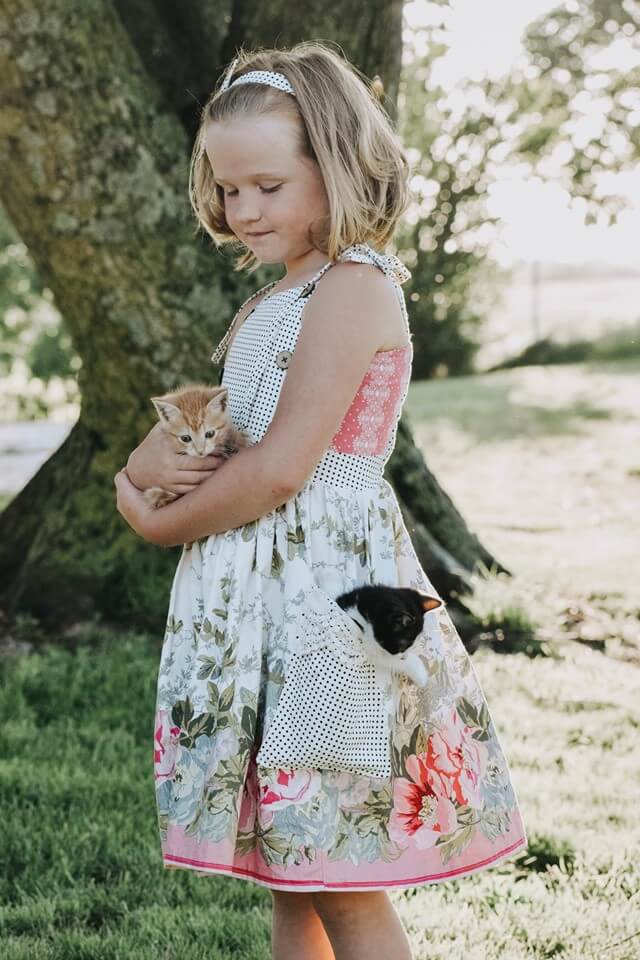 Remember that adorable photo featuring Hannah's daughter and kittens… here it is. Cute, huh? We think her momma did an awesome job & loved hearing more about her. Here is what Hannah said of herself: "My earliest memory of sewing was at age 8. My mom had thrown away an old white suit shirt of my dads, and I asked if I could have it to cut up. I raided my mom's sewing box (which was nearly empty, as she claims anything crafty gives her anxiety), and made a tiny v-yoke Barbie gown, with snaps sewn on the back. My mom was impressed! From then on I was hooked! My first job at age 16 was at a fabric store, where I learned so much from the experienced seamstresses who frequented the shop! After my first child was born, I purchased a serger and began experimenting with knits and building my skills through YouTube. Oh glorious YouTube! After the birth of my third daughter, I began sewing with wovens again, and discovered the world of PDF patterns. True love. I'm 33 years old now, and my mom still saves my dad's old suit shirts for me. However, now I use them as bodice linings for his granddaughter's (above) dresses. A sweet memento to the beginning of it all." We think it is a wonderful past time and skill that Hannah has definitely mastered. Hannah only sews for personal reasons for her children. We inquired about this particular sew, and she told us: "Several years ago, I was visiting Hannibal Missouri and found this floral print on the clearance shelf of "The Hickory Stick", a hometown quilt shop. I purchased just enough to make myself an apron, but as life goes with children, I never had time. The floral print sat folded at the bottom of a tub out of sight, but not ever out of mind. When Bristol was released, I went straight to it [the stashed fabric] and off to find matching fabrics! I LOVE how it turned out. This is a garment that I will keep forever, even after my girls are grown. True love in every stitch." Hannah, we absolutely agree with you! This is a show stopping dress that deserves to be cherished forever. Hannah can be followed on Instagram at the name @taylored_threads.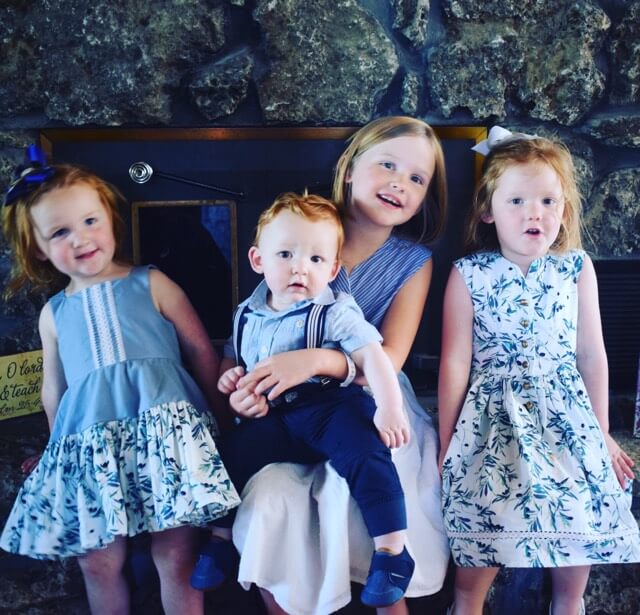 Dana Foster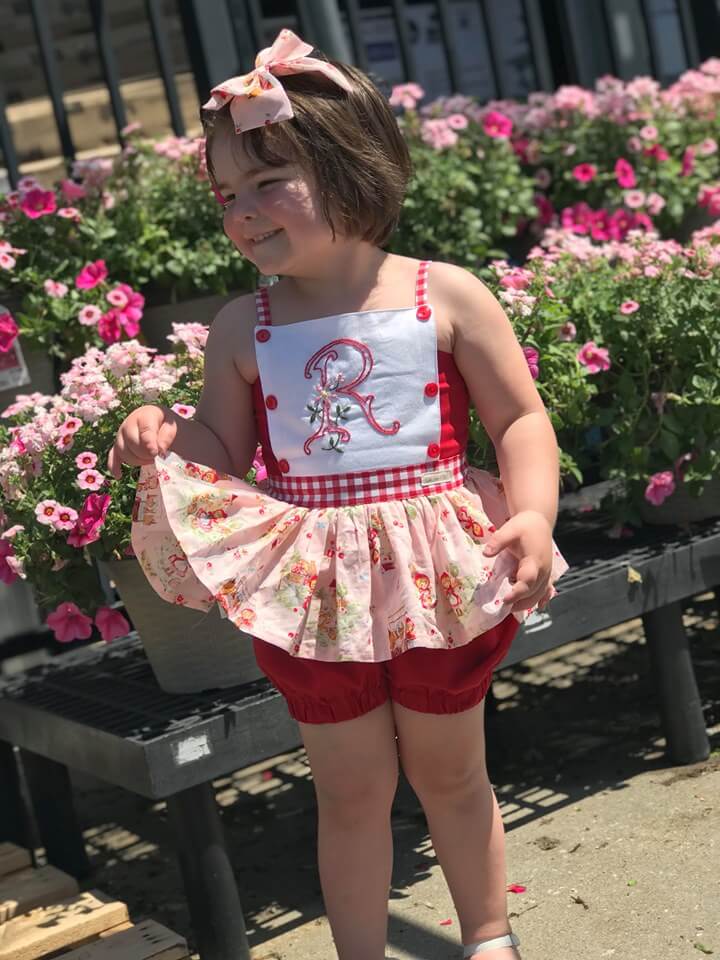 Dana's little girl won us over with the sweet innocent smile and pure joy that just radiated from her in this shot (above) in her new Bristol top. There is so much to love about this sew, but that bib embroidery really is the true wow factor. If you have been wondering how to embellish your Bristol, then check out our past blog: Embellishing Bristol. If you are looking at Dana's amazing embroidery with envy, then we have a wonderful starting point to help guide you into becoming an embroidery pro. Our last blog post, Hand Embroidery Made Easy is perfect for those of you dreaming of creating beauties like above. I enjoyed getting to know Dana a bit better. When I inquired about her history with sewing & this particular creation, this is what she said: "I've been sewing since I was a little girl, my grandmother taught me. I started sewing as a business in 2012 after my oldest was born prematurely and I couldn't find anything that fit her properly." This working momma operates Oh Sew Chic. She can be found on Facebook and Instagram. We adored this outfit, and asked about it in particular which she replied: "This sew was for my youngest's preschool graduation this year. She is obsessed with finding the letters in her name, and the Bristol was a perfect pattern for her monogram." We agree with you Dana, and love how you created this beautiful one of a kind beauty.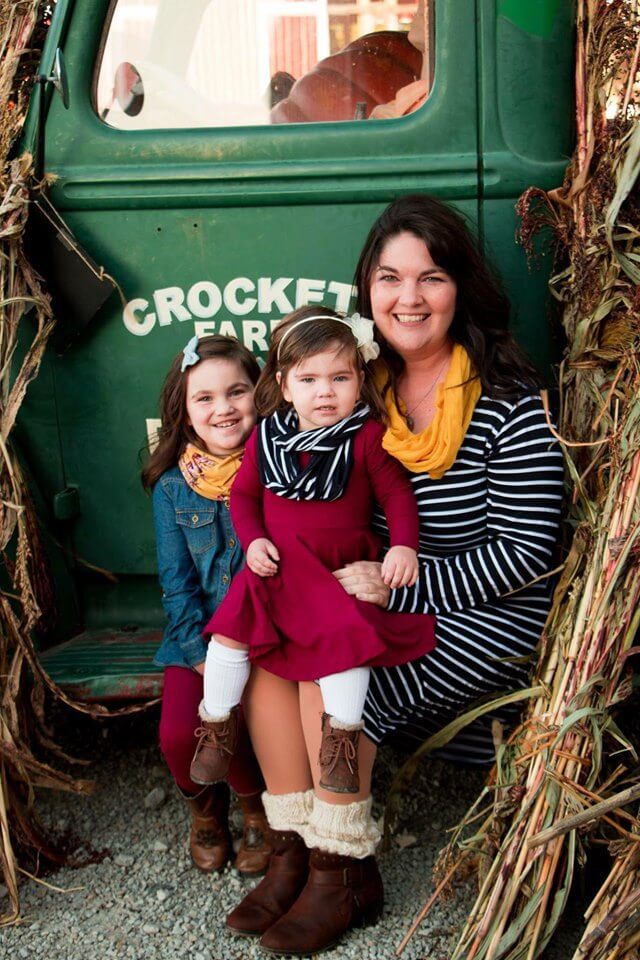 Happy Sewing
We always look forward to seeing all your makes, and appreciate your loyalty to Vintage Little Lady. That is all for this month of lovely May Sew Ups. Tomorrow begins a new month, so once you're finished with your current sews, be sure to add them to the album which will load tomorrow!! We enjoy learning about each of you, and want to thank you so much for joining us to celebrate these sewists each month. Enjoy your day ladies and gents, and we will be back next month with a fresh couple of sew up winners!!
XOXO