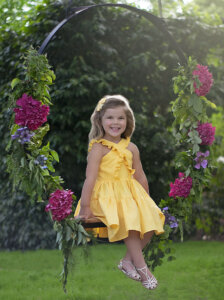 The sun is shinning, the flowers are in full bloom, summer is without a doubt my favourite time of year and what better time to stitch up something new!
I'm beyond excited to share the latest design from Vintage Little Lady!!
Introducing Quinn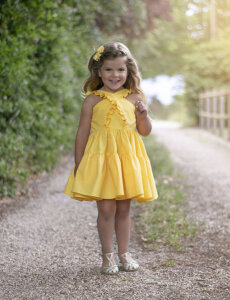 Quinn is all things girly, from the huge twirling 2 tier skirt, vintage length simple skirt or the sweet top, Quinn is sure to have something for everyone. Quinn features a stunningly unusual cross over bodice with ruffle options and an elasticated back for ease of wear and longevity of fit.  She's classy and cute but extra comfortable, ready for everyday wear or perfect for jazzing up in a fancy fabric for that special occasion. Not to mention if you happen to stitch up baby Quinn then it comes with adorable matching bloomers!! Choose between a dress or a top. Quinn is available in Baby sizes: 0-3mths – 18-24mths Girls sizes: 2T-9/10 and Tween Sizes: 10 – 16.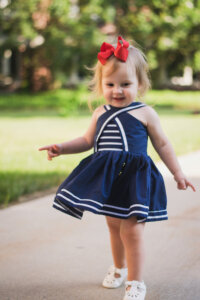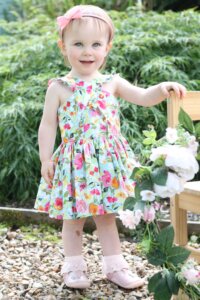 Quinn was inspired by my youngest daughter, she is dress obsessed (aren't we all!) but she is just as desperate to climb trees and roll around, I knew we needed a dress that could give her the twirl she craved but not be uncomfortable around the arms and flexible in the back to keep up with her! with that Quinn was born!!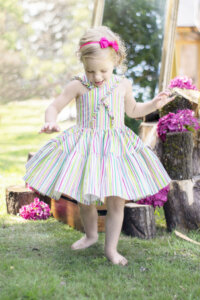 Whether you're made about ruffles or love to keep in simple, the world is your oyster! Want to add a trim to the simple version or maybe piping to the waist….either is possible.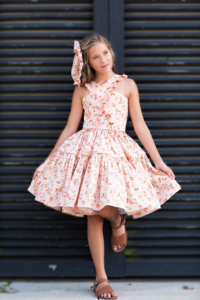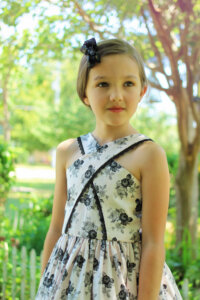 The Simple vintage skirt, 2 tiers of dreamy twirl or top length give you the choice to take this stunning dress form casual to classy and back again!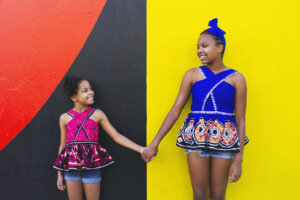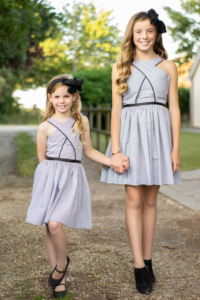 Not forgetting tweens, I also have an older daughter, she loves slick stylish sews and Quinns' simple bodice with added darts hits just the spot in either the dress or the top.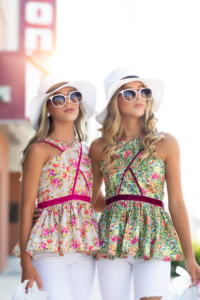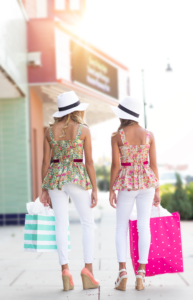 However in my heart, I always love a bit of fancy! and Quinn sewn up in chiffon and tulle hit just the right spot for me!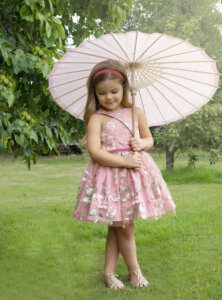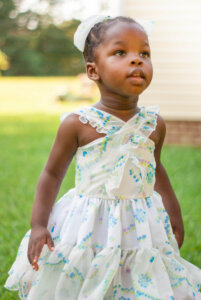 It goes without saying behind every great pattern is and even more amazing group of testers! I want to say a huge thank you to each and everyone of you that helped with the development of this pattern! Without you guys we wouldn't be able to do what we do!! We truly appreciate each and every one of you!!
We cant wait to see all the possibilities you come up with 🙂
With Love
Kayleigh xoxo